Up close with Maestro Kevin, celebrity stylist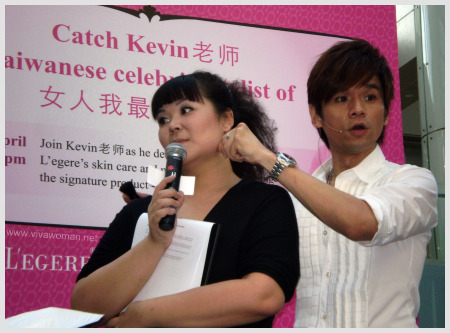 For those of you in Singapore, if you have some time today and you're in the mood to be entertained beauty wise, go and catch Maestro Kevin, the Taiwanese celebrity stylist made popular by the beauty program Queen or Ladies First. I thoroughly enjoyed myself watching him in an up close demonstration session at Marina Square yesterday. The guy really knows how to work the crowd.
Kevin is here promoting Korean L'egere skin care and make up range from StarDust by John Little. Apparently, Kevin has been impressed with L'egere BB Cream since he was introduced to the product about 5 or 6 years ago. The two products – L'egere Water Drop & Shiny Pearl Oil Free BB Cream and White Multi All-In-One BB Cream – were products he recommended and used at the show. According to Kevin, the reason why he recommends these two BB Cream is because both are suitable for women of any complexion as the cream can blend right into any skin tone.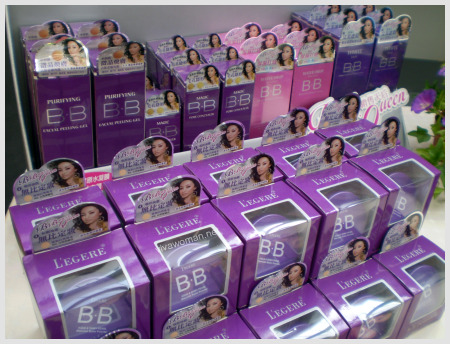 The makeup demonstration that Kevin conducted centered on a natural look with the ability to withstand the humid weather in Singapore. So he only used the L'egere Water Drop & Shiny Pearl BB Cream, the L'egere Mineral Foundation, the L'egere Mineral Blush Powder and a mascara on the model. I thought that was rather refreshing and I liked the fact that he said there's no need to draw eyeliner for Asian eyes. Yay to that!
Kevin has another two public demonstrations today:
– 2pm at Jurong Point
– 4pm at Plaza Singapura
Try to get closer to him if you can because the guy is rather inspiring to watch. I got a totally different vibe watching him live on stage as compared to watching him on TV. He's really very likeable in person!
Anyway, it was definitely a beneficial session for me. There were a number of useful skin care and makeup tips I picked up from him – some of which I will be sharing next week. So stay tuned!
Comments