Viva Challenge: label your cosmetics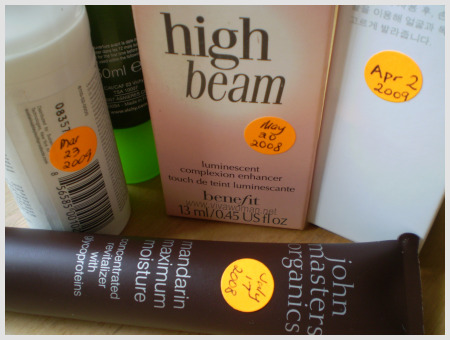 For this week's challenge, I'm urging you to label your cosmetics upon purchase. If your product permits, you can write it directly on the ingredient label. If not, you can use a little sticker to do the job for you.
The reason for this challenge is because all cosmetics have a shelf life and you can't use them indefinitely. For example, sunscreens expire in one or two years while mascaras can last you about three to six months.
In fact, skin care products are best used when they're fresh, especially those with active ingredients to avoid quality degradation. However, it may not be possible to remember the dates of when you've purchased the products so labeling them will help you take the guesswork out of the process.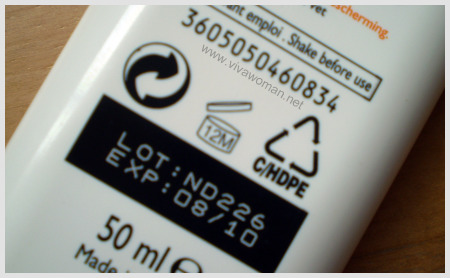 Shelf life icon
I think it is quite useless to have the shelf life icon on products indicating how long the product can be used when opened – as in the picture above 12M means you have 12 months until the product expires upon opening- unless we know when the product was manufacturered or when it will expire.
Manufacturing and expiration dates
I wish that all products have their manufacturing date stated on the product but as you know, this is not happening. Most of the manufacturers use batch codes which are alien language to most of us. In addition, you may know that except for natural and organic products, there are no regulations or requirements in US that require cosmetic manufacturers to print expiration dates on the labels of cosmetic products. In Europe, expiration dating are only required for products whose minimum durability is less than 30 months (source). 
Consumer responsibility
As consumers, I think the responsibility is ours to ensure that we be vigilant on what we put on our skin.  Hence, labeling your cosmetics is a start to that responsibility. 
Personally, I've started to label my products except for cleansers which I always use immediately and frequently.  I find it hard to remember when I purchased the product and I sometimes don't use the product until awhile later.  What about you?
© www.vivawoman.net copyright notice ☺
______________________________________________________________
Comments