A look at sunscreen labeling with Badger's SPF34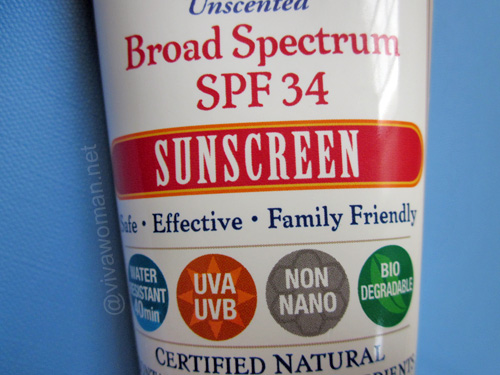 I bought a tube of the Badger Broad Spectrum SPF34 Sunscreen recently from iHerb because it was going for a song at US$4. I haven't started using the product and so I'm not ready to review the product yet. But anyway, the product is not exactly new to me but the packaging is. Badger has redesigned their product label to meet new FDA guidelines for sunscreen and I'm really liking how it looks. In fact, I think all sunscreens should be labeled as clearly as this one to help consumers pick the right product.
New labeling to protect consumers
For those who are unaware, all sunscreens that pass FDA tests are now to be labeled as "broad spectrum," followed by the SPF rating, to indicate the product's effectiveness against both types of ultraviolet rays. The new regulations went into effect in June this year, but manufacturers of over-the-counter products have until December 17 of this year to comply. Essentially, this will help to protect the consumers from a false sense of security created by high SPF ratings, especially those above SPF50. So here's a quick summary of the new labeling requirements taken from the FDA website: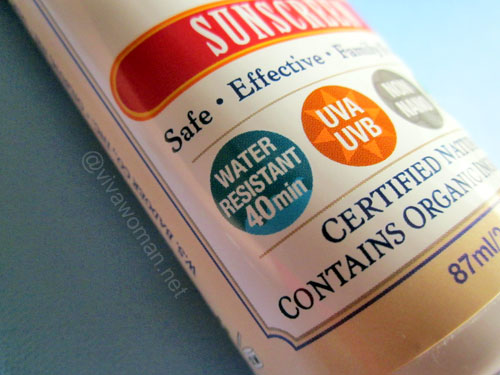 Broad spectrum definition
Sunscreens that pass FDA's broad spectrum test procedure, which measures a product's ultraviolet A (UVA) protection relative to its ultraviolet B (UVB) protection, may be labeled as "Broad Spectrum SPF [value]" on the front label. For Broad Spectrum sunscreens, SPF values also indicate the amount or magnitude of overall protection.
Claims of skin cancer risk
Only Broad Spectrum sunscreens with an SPF value of 15 or higher can claim to reduce the risk of skin cancer and early skin aging if used as directed with other sun protection measures. Non-Broad Spectrum sunscreens and Broad Spectrum sunscreens with an SPF value between 2 and 14 can only claim to help prevent sunburn.
No waterproof or sweatproof claims
Manufacturers cannot label sunscreens as "waterproof" or "sweatproof" because these claims overstate their effectiveness.
Water resistance claims
Water resistance claims on the front label must indicate whether the sunscreen remains effective for 40 minutes or 80 minutes while swimming or sweating, based on standard testing. Sunscreens that are not water resistant must include a direction instructing consumers to use a water resistant sunscreen if swimming or sweating.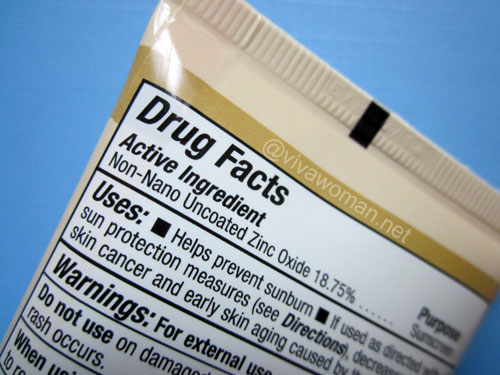 No more "sunblocks"
The term "sunblock" is too misleading and cannot be used because no sunscreen can block 100 percent of the sun's ultraviolet (UV) rays. All products will simply be called sunscreens from here on out. Sunscreens also cannot claim to provide sun protection for more than 2 hours without reapplication or to provide protection immediately after application (for example– "instant protection") without submitting data to support these claims and obtaining FDA approval.
No more SPF70 or SPF100 sunscreens
Products that claim to provide sun protection at a value higher than SPF 50 may only be labeled as SPF 50+ because there is not sufficient data to show that products with SPF values higher than 50 provide greater protection for users than products with SPF values of 50.
Drug facts
All sunscreens must include standard "Drug Facts" information on the back and/or side of the container.
Label rule applies to cosmetics & moisturizers with SPF
All products that claim to provide Broad Spectrum SPF protection are regulated as sunscreen drug products. Therefore, the regulations FDA has developed for over-the-counter sunscreen drug products apply to cosmetics and moisturizers labeled with SPF values.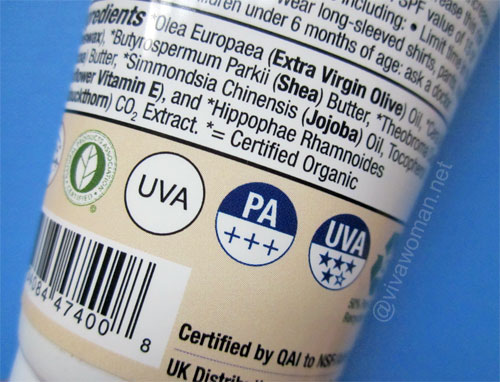 PA rating
Actually, I'm quite surprised that the Badger Broad Spectrum SPF34 has the PA rating system on its packaging, which is more commonly seen in the Asian brands. PA stands for protection grade of UVA system and is the Japanese measurement of sun protection, which is based on the Persistent Pigment Darkening (PPD) reaction reading at 2-4 hours of sun exposure. According to info from the wiki, the Persistent Pigment Darkening (PPD) method is a method of measuring UVA protection, similar to the SPF method of measuring UVB light protection. PA+++ provides good UVA protection with a factor of PPD > 8 and offers you with the greatest protection.  
Star rating
The Badger sunscreen also added the Boot's Star Rating System. This system consists of 5 different ratings, with 1 star (*) indicating low levels of protection against UVA radiation, and 5 stars (*****) indicating a high level of UVA protection. However, this system has been dismissed as a marketing tool as it's quite impossible to correctly assess the UVA protection of a sunscreen without specialized knowledge.
All pertinent information included
But still, when viewed in totality, the packaging of the Badger Broad Spectrum SPF34 Sunscreen did a good job to help consumers easily decipher what could be otherwise confusing information. I think they went beyond the FDA new labeling requirement and incorporated pertinent information like the PA rating, which matters to many of us. And of course clearly marking the product as "Non-Nano" and "Bio-Degradable" is useful too.
What does this mean for us in Singapore?
The new FDA sunscreen labeling applies to products originating or being sold in US and this would mean we will benefit as many of our sunscreens are from US. However, some brands that are not sold in US will not be subjected to the FDA requirements and hence we may not see these clear labeling. However, I hope the Badger Broad Spectrum SPF34 Sunscreen labeling will serve as a benchmark for the other sunscreen products out there. I mean, if the company is really offering a good sunscreen, then providing complete and transparent information to consumers shouldn't be an issue at all, right?

Comments