Project cosmetic labeling: inspired by pretty stickers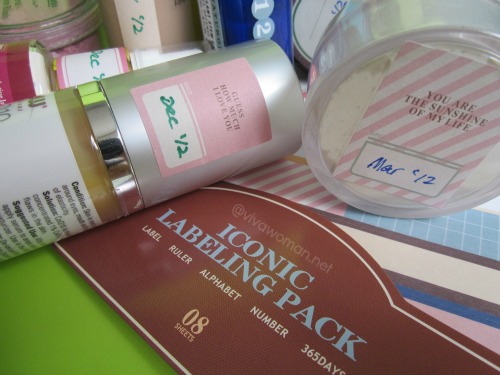 So whatsup with this project? Well, it's really me labeling my cosmetics with these cute little stickers that record when I started using the products. Some of you may remember a challenge I issued back in 2009 and I'd shown how I labeled my products with normal looking round stickers. Well, I've upgraded! I now label my stuff with cute looking stickers from Korea! Well, I needed to motivate myself to get back to the process of labeling because I'd stopped for awhile due to sheer laziness and something visually appealing does keep me interested for longer. Oh yeah, I'm girlie like that!
The need to label cosmetics
Why do we even need to label cosmetics? Many of you probably know that all cosmetics have a shelf life and you can't use them indefinitely. For example, sunscreens expire in one or two years while mascaras can last you about three to six months. All skin care products are best used when they're fresh, especially those with active ingredients to avoid quality degradation. However, it may not be possible to remember the dates of when you've purchased the products so labeling them will help you take the guesswork out of the process.
Some products expire before their time
And I don't know about you but I have a habit of switching products pretty often. I might use a product for a month, stop and then come back to it two months down the road. Since the products I use are mostly in the natural category with a limited shelf life, I better know when I started using the product just to be safe especially since some of them actually expire before the time indicated on their packaging.
Sunscreens get the labeling priority
Although all my products should be labeled, the ones that require immediate attention are really the sunscreens because I have a habit of hoarding them and then promptly forgetting when I started using them. So labeling them with a date will allow me to discard them a year after opening because sunscreens can lose their potency over time.
Girls just wanna have fun
Oh all right, I know some people are rolling their eyes in disgust at where I spend my money and time but well, a girl can choose what she likes to do, can't she? If this is what makes me happy, then who is to say that the money and time aren't well spent?
Variety of labels
Anyway, there are some really pretty stickers in this pack and I can even choose to stick on numbers if I like. But I like those that allow me to write the date. With the different shapes and sizes, I also have more options of where to stick them on my products especially since I don't want the stickers to come in the way of key product info too.
Get started with cute labels
I know many of you are very diligent and go as far as keeping track of your cosmetics with spreadsheets. But for those who are a bit more slack and want to get started, how about motivating yourselves with cute sticker labels like these. You can get them here. At S$6.50 a pack, they're definitely affordable.
Comments