Do you like to attend beauty workshops?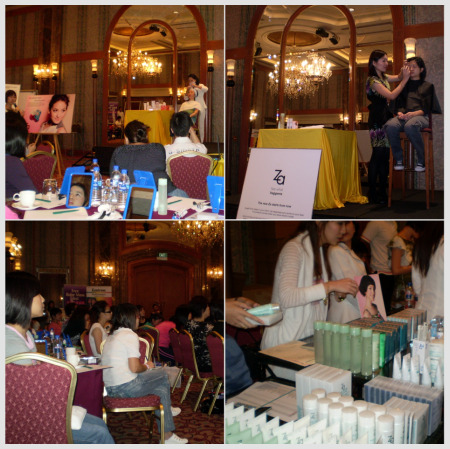 It's Labour Day and I hope you are all well rested and feeling relaxed.  Today, I want to find out if you ladies like to attend beauty or health related workshops.  I don't attend too many of such events because of time constraints but I do love to attend whenever I can because there is usually something new to learn.  
Like last Saturday, at the first Glow workshop organized by Watsons, there were quite a few useful and relevant takeaways even though the topics covered were not entirely new.  We even got to do a Flexercise which is supposed to help us strengthen our bones.
Aim to look 5 years younger
For example, I not only learnt about the difference between multivitamins and multiminerals during the talk on Healthy Living from A to Z by Dr Alvin Wong of SKN Medi Aesthetics; I also learnt that a realistic aim to look younger is 5 years!    I also found out at the talk by Dr Calvin Chan of Calvin Chan Aesthetic & Laser Clinic on Myth and Facts of Skin Whitening that it might be useful to consume a product like Heliocare for sun protection especially since we can't be re-applying our sunscreen throughout the day.
Live workshop allows for questions and clarifications
While some of these information can be obtained from reading and research, but I realized that I can register the information better by having someone tell it to me.  In addition, I can ask questions and clarify some doubts with the speakers during a workshop but I can't possibly do that with a book.
Platform to find out new products and trends
Product and makeup demonstrations on the other hand are less interesting for me unless they are conducted in an entertaining manner.  But it's usually a good way to learn about new products and trends in the market.   This was how I found out Vichy Bi-White products and the Spring/Summer 2009 Makeup Trend from ZA.  I thought the hands-on session from ZA was quite useful to test out their new Wide Eyes Mascara!
Preference for skin care over makeup workshops
My preference is to attend workshops related to skin care or wellness; that's why I never register for those makeup workshops held at department stores.  Even though the fees are usually redeemable for products, I find it quite a waste as I will hardly buy that much makeup.  The story might be different if the workshop is conducted on a one-to-one basis or with a friend because I'll feel less inhibited when it comes to testing out the products on my face.
So what about you?  Have you attended any workshops this year?  And if you enjoy attending such events, what are your favorites?  The talks, the demos, the interactions, the food or maybe the goodie bag?
Comments