Eco Lips Organic Lip Balm with SPF15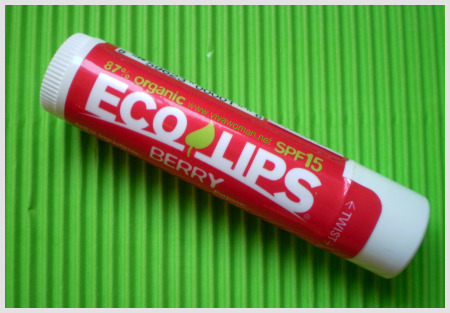 In my last challenge on applying sunscreen around our lips, Jessica whose lips are allergic to sunscreen asked if I can recommend an organic lip balm with sunscreen. I wasn't able to at that time but now I can because I've just bought Eco Lips Organic SPF15 Berry Lip Balm from Watsons at Ngee Ann City for around S$8.90 if I remember correctly.  I only saw this and the mint flavor with SPF; the rest are just organic lip balms which cost slightly less.
Ingredients
The active ingredients in this SPF 15 Berry Lip Balm are 7.5% Octinoxate and 3% Oxybenzone. Other ingredients include: Organic Helianthus Annuus (Sunflower Seed) Oil, Organic Cera Alba (Beeswax), Organic Simmondsia Chinensis (Jojoba) Seed Oil, Organic Berry Flavor, D-Alpha Tocopherol (Vitamin E), Aloe Barbadensis (Aloe Vera) Leaf Extract, Organic Calendula Officinalis (Calendula) Flower Extract, Rosmarinus Officinalis (Rosemary) Leaf Extract.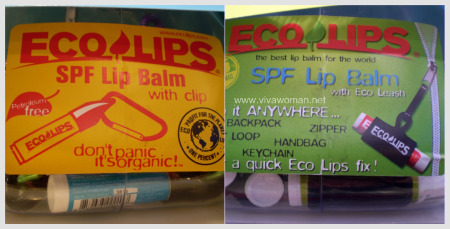 Eco Lips for sports enthusiasts
Besides the normal lip balms, I spotted these Eco Lips SPF 15 Lip Balms with clips and with Eco Leash!  Kind of cute but they are more suitable for outdoor sports usage.  I vaguely recall them to be about S$13+ but I could be wrong.
Soft and moisturizing
The texture of the Eco Lips Organic SPF15 Berry Lip Balm is very soft and I like how moisturizing it made my lips felt. This lip balm has a nice flavor with no weird smell. In addition, it's nice that it is said to contain 87% certified organic ingredients on top of offering sun protection. 
I have only seen this at Watsons over at Ngee Ann City and am not sure if they're available at the other stores. For those outside of Singapore, Eco Lips is readily available online though.
Comments