Review: two natural lip balms under US$6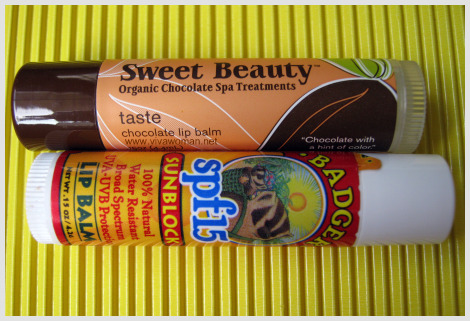 These are the latest natural lip balms I've been using lately.  One is Badger SPF15 Sunblock Lip Balm, a natural, mineral-based SPF15 lip balm.  The other is Taste Lip Balm from Sweet Beauty Spa.  Both are unlike your usual lip balms as in they don't have the typical beewax color.  Rather, one looks almost white and the other, chocolate. 
However, they're both able to moisturize the lips well and also serve their product objective at the same time.  What's best is that both are affordable and are well below the US$6 mark.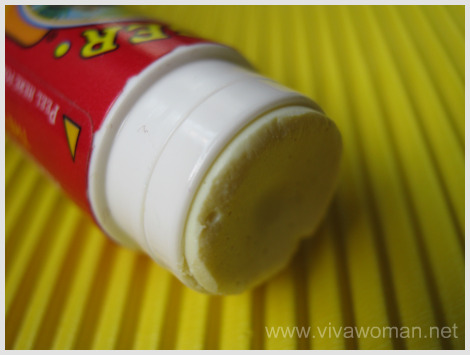 Badger SPF15 Sunblock Lip Balm US$2.62
I got this from a spree on LuckyVitamin.com out of curiosity.  The lipbalms I have with SPF are all chemical base and I wamted to find out how a mineral lip balm would fare.  According to the description, Badger SPF15 Sunblock Lip Balm is water resistant and is safe, even for children of all ages. In addition, Badge Sunblock for Lips thoroughly moisturizes while it protects, and is a 100% natural, chemical-free, mineral sunblock.
Ingredients
This lip balm contains 12.5% zinc oxide (micronized non-whitening, natural) and other ingredients include: Extra Virgin Olive Oil (Organic) (Olea Europaea), Beeswax (Natural) (Cera Flava), Jojoba Oil (Organic) (Simmondsia Chinensis), Cocoa Butter (Organic) (Theobroma Cacao Seed), Wild African Shea Butter (Butyrospermum Parkii), Co2 Extract of Seabuckthorn Berry (Organic) (Hippophase Thamnoides), Essential Oils of Lavender (Lavandula Angustifolia), Moroccan Blue Tansy (Tanacetum Annuum), Ylang Ylang (Cananga Odorata), Lime (Citrus Aurantifolia), Orange (Citrus Aurantium Dulcis)
Effective sun protection for the lips
Because of the zinc oxide, this leaves the lips slightly white after application, even after some blending.  Hence, it's not exactly cosmetically attractive to be worn on a daily basis or by itself.  It's however, a recommended lip balm if you want some effective sun protection under the sun, on top of having your lips moisturized.  Good for sun frolicking for sure!  And it has a light lavender scent even though the ingredient is listed almost at the bottom.
Sweet Beauty Taste Lip Balm US$5.50
This came complimentary from a PR agency.   It's actually a nice lip balm, especially because it features organic, fair trade certified chocolate.  The flavor and scent is very strong but pretty delicious I must say.  Although the color of this lip balm is unlike the usual, it feels as moisturizing when applied with just a hint of the luscious chocolate color.  In fact, the color isn't very obvious and I only noticed when I wiped my lips on a tissue paper.
Ingredients
This Sweet Beauty Taste Lip Balm contains: Beeswax, Babassu Seed Oil, Sweet Cherry Oil, Organic Fair Trade-Certified Chocolate, Aloe Vera Oil, Avocado Oil, Meadowfoam Oil, Cranberry Seed Oil, Black and Red Raspberry Seed Oil, Pomegranate Seed Oil, Cocoa Absolute, Rosemary Extract, Vitamin E T-50.
Availability
You can get both the lip balms via the links I gave above.  And Badger's lip balm is available at a few places in Singapore, including Bud Cosmetics, Nature's Glory and Guardian at Centrepoint, Paragon, Vivo City and Great World City.
Comments