Makeup base to correct your skin tone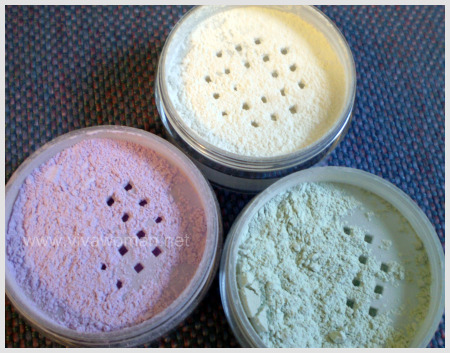 At the recent workshop that LA Splash organized for a friend and me, we got to see interesting shades of mineral foundation – colors like green and purple which I haven't seen before.  It was later that I learnt that these are makeup bases used to correct imperfect skin tone and should be applied to the whole face prior to putting on our foundation.
Different colors work to provide different results.  For example, purple, mauve or pink are used to neutralize the yellow tone and give sallow complexions a healthy glow. Mauve is also said to even out bruises, veins and undereye circles.
Purple base to even out skin tone
I was given a purple makeup base to help correct my uneven skin tone and I think the lavender shade evens out my skin tone quite abit by making my face rather white upon application.  However, that whiteness was well concealed once I applied my normal shade of foundation over it.  My friend was given a green makeup base which covers acne marks and rosacea. My friend doesn't have acne but I have to say it really helped to reduce the redness on her face to a great extent. 
Blue base for fair but slightly red skin tone
I even read that there are blue makeup bases which are suitable for those with fair but slightly red skin tone.  And of course there is white to lighten dark complexion or the color of your foundation.  Yellow, apparently also works to reduce uneven skin tone but depending on complexion, a purple base might work better for some.
Orange base to correct severe dark tone
Besides these colors, you can also find peach makeup base to correct blue undereye circles as well as to balance slight skin discolorations. For severe dark undereye circles, orange makeup base is said to work better.  In this case, you do not need to apply the orange base on your entire face though!
So do you use a makeup base of a unique color to correct your skin tone?  If so, does it come in powdered, liquid, cream or stick form? I haven't tried other forms of makeup base but I definitely prefer these mineral makeup bases from LA Splash because they contain only mica and titanium dioxide and hence will not clog my skin.
Comments