Why I use a purple face powder as my foundation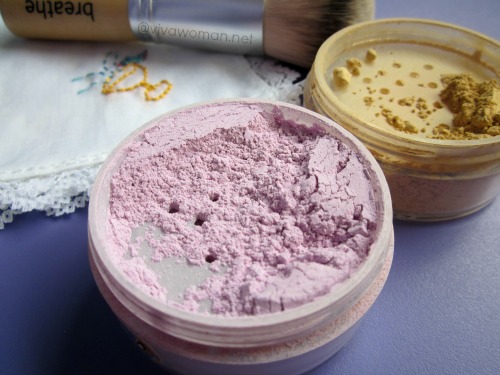 When I posted about using weird face powder on my Facebook page last week, I was reminded about a post I wrote in 2009 using "interesting" colors like yellow, green, white, orange and others as makeup base to correct your skin tone. And coincidentally, I started using one of these bizarre colors again in my daily makeup and that color is purple.
Benefits of using an odd color of foundation
According to this post in Total Beauty, it seems like these bizarre face powder are no longer confined to just being concealers or correctors. Apparently, makeup artists swear by these colored powder as they can highlight your best features, make your makeup look flawless and give your skin a serious glow.
Uses for different colors of face powder
According to the experts, different colors work to provide different results and here are some ideas:
Yellow—hides undereye circles, dark spots and purple blotches.
Green—covers redness, acne and rosacea.
Lavender—hides bruises and improves sallow complexions.
Mauve—conceals bruises, veins and undereye circles.
Peach—livens up skin tone and balances slight skin discoloration.
White—lightens darker foundations and enhances features.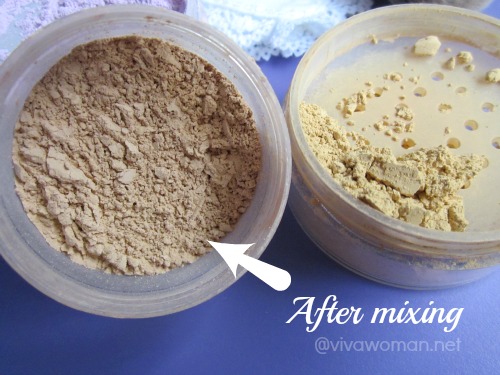 Purple base evens out skin tone
I was introduced to such strange colors some years back. They were very pretty colors and I was recommended a purple powder to help correct my uneven skin tone. I used to apply it first like a base to neutralize the flaw, followed by my normal foundation shade. However, it got quite cumbersome and I felt that I was actually applying powder twice to my face, which made my makeup quite thick if I wasn't careful. Obviously, the result wasn't all that ideal. So what I do now is to mix the purple shade with my beige foundation powder and the combination works so much better! Plus the shade turns out to be more flattering for my skin tone.
Mineral foundation powder from LA Splash
Like I've mentioned, many brands have such bizarre shades of face powder but the ones I use are mineral foundation powders from LA Splash. The brand is available at selected Guardian Pharmacies. I also remember they have other colors like white, green and yellow. I was using this brand for awhile before I stopped to experiment with others. However, I decided to repurchase as I had good experience with their powders.
So any of you like using "bizarre" colors on your face? What's your favorite shade?
Comments