Viva Challenge: sunscreen around your lips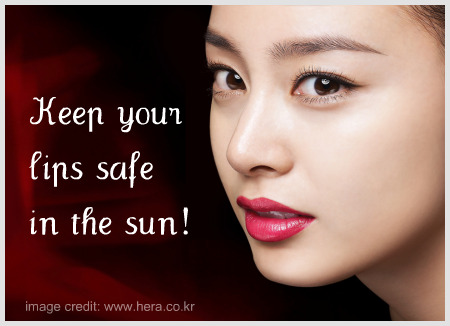 While I had earlier questioned the intent of the criticism from the Cotter about my skin, I did appreciate the highlight on my lips because it's true I don't protect them very well. Her comment made me think about giving my lips more protection as the lip balms and lipsticks I use are not always loaded with SPF. In addition, I sometimes use lip gloss, which can actually reflect UV rays and lead to sun damage.
And a timely article at the Allure Blog pointed out that the vermilion – that raised ridge around the lips – is most affected because of this. To counter this, dermatologist Heidi A. Waldorf is said to have suggested dabbing a broad-spectrum SPF 30 face sunscreen onto the ridge our mouth, and protecting the rest of your lips with an SPF 15 or higher lip product every day.

Apply sunscreen to the ridge of your mouth
So I invite those who have neglected their lips like me to start applying your sunscreen around the ridge of your mouth.  I've started doing this since using Marie-Veronique Organics Creme de Soleil because it's so lightweight.   I will also be looking into applying a lip product with SPF more diligently and I'll most certainly try to avoid applying shiny lip gloss on sunny days.
***
You've come to the last of the first series of Viva Challenge.  We'll take a break before a second series is introduced later.   I hope the challenges have been meaningful for you so far and that you have tried your hands at some of them.  Meanwhile, stay tuned at Viva Woman for my other posts on skin care tips, product reviews and DIY quick fixes!
Comments