Dazzling fun with cosmetics from LA Splash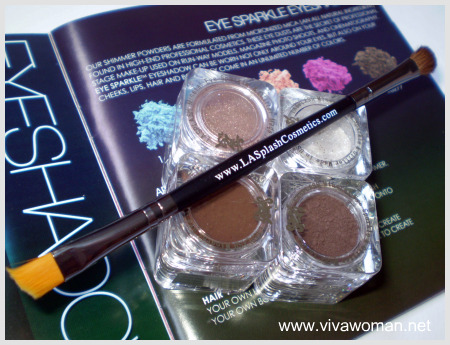 Besides mineral foundation and blush, I've been playing with some of the other cosmetics from LA Splash and here are some of my favorites.
Eye Brow / Eyeliner Powder S$17.90
Their brow powder are really long lasting and do a good job of keeping my brows in shape!  I was very surprised with the quality and the best part is that the small pot will last me a long long time because I only need very little each time as the powder is very pigmented.
Eye Sparkle S$17.90
I haven't used the Eye Sparkle too many times but I do like Java Gold because it looks natural despite the shimmery texture.  I can dust it on my lids with the brush but using my finger to dab on is equally easy!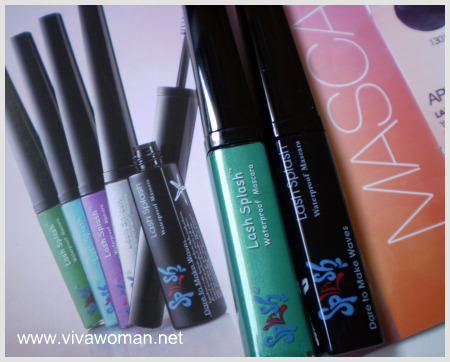 Lash Splash Waterproof Mascara S$13.90
This green mascara is dubbed Sea Squirt and it was love at first sight because it's such an interesting color!  I particularly love using this with the Rainforest Liquid Eyeliner.  In addition, this mascara doesn't smudge but yet, I don't need to use a special cleanser to remove it.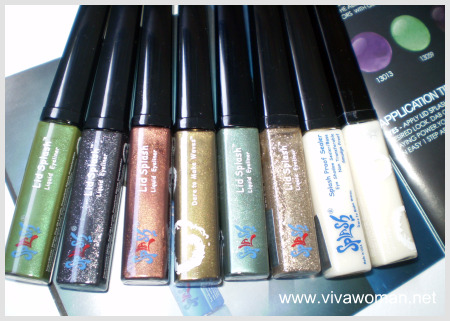 Lid Splash Liquid Eyeliner S$17.90
I've always thought that liquid eyeliner is difficult to use and smudge easily but was quite surprised that LA Splash Lid Splash Liquid Eyeliner is very smudge proof.  Once dried, it doesn't smudge and I did not even have to use anything extra to keep it in place.   The only thing is that some of the glitters from the eyeliner do stray abit after sometime  although they don't cause a problem because they're only tiny specks.  Just that while cleansing is also easy, I've to ensure that I check for any leftover specks.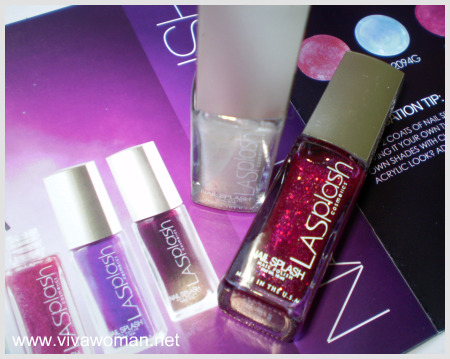 Nail Splash S$9.90
My favorite is Glitz and Berry, which is a shade in red.  It's got glitters and I can use it alone or over my existing polish.  A very nice color but the only drawback is that it takes quite long to wipe it off my nails.
Great selection and affordable price
I'm actually quite surprised that  LA Splash has such a complete range of cosmetics that are very affordable.  They also have lip products and while I do like their lip lacquer in terms of the color and gloss, but I don't like the taste of it. Other than that, the quality for most of the other products is definitely above average and I would even say their mineral foundation which I reviewed last week is of superior quality.  In addition, I won't be surprised to find customers going wild over the range because LA Splash offers quite an extensive selection of colors.
Availability
As an update, LA Splash is available in Indonesia, Thailand, Malaysia, Cambodia, Hong Kong. Taiwan and Japan. However, please don't ask me where they're sold because I really have no idea. But in Singapore, I know you can find the range at Chai at Liang Court, John Little (not available at Plaza Singapura), OG at Orchard Point, Watsons at Bugis Junction, Ngee Ann City, and Tampines Mall as well as selected Sa Sa Cosmetics stores.
Comments