Review:LA Splash Mineral Foundation & Blush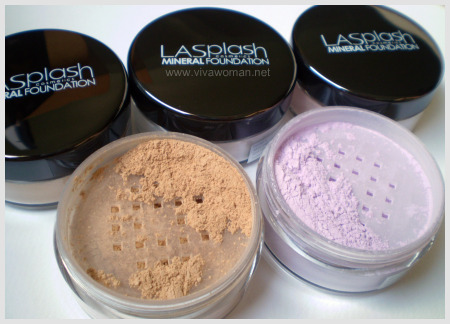 I was really surprised to learn that LA Splash Mineral Foundation has been in our local market for around three years.  Which means, it was available long before the mineral foundation rage began here!  And to think that I never found out about it until now!  
Actually, my interest in mineral makeup had sort of waned after suffering a breakout from using one of the brands, and I had become more wary of using mineral foundation with too many ingredients.  But I agreed to test LA Splash Mineral Foundation because the range only contains mica, titanium dioxide, and possibly iron oxide; ingredients which are unlikely to break me out.
So how does it fare?
LA Splash Mineral Foundation is probably the better mineral foundation I have tried so far.  I'm no expert in mineral makeup and I haven't tried that many brands but I'm happy with the results this range offers me.  Even my friend who is also using their mineral foundation, has been pleased with the results so far and I have to add that the makeup look really nice on her.
Natural medium coverage that does not oxidize
I learnt that LA Splash Mineral Foundation, which is manufactured in USA, is formulated with non-micronized ingredients and this is why it is able to provide me with a medium natural coverage. In addition, after testing this product for about a month now, the powder isn't causing my skin to break out or dry up.   My face also does not look exceedingly oily at the end of the day and neither does the foundation oxidize or change color after a few hours.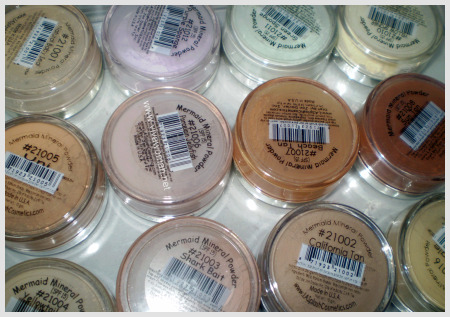 Available in many shades and suitable for all skin types
This range of mineral foundation comes in a variety of shades (I was told 13!) and the one that I am currently using now is 21001 Natural Baby Seal.  Usually, I apply the purple makeup base prior to using this but actually, the makeup base only make a slight difference for me and so I sometimes just use the Natural Baby Seal Mineral Foundation by itself.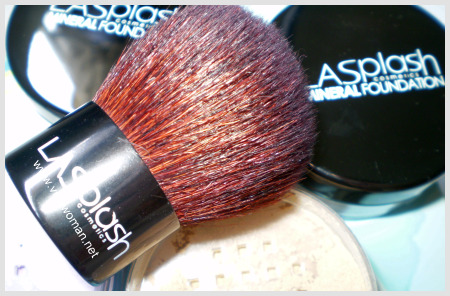 Kabuki brush made with goat hair
The brand also offers a kabuki brush made from 100% goat hair, which I was told is good for picking up the foundation. It feels good on contact but I didn't really get a chance to use it much because the one I was given was shedding quite badly even after a wash. However, it seems like mine was probably an exception as my friend had no such problems and was happy with hers.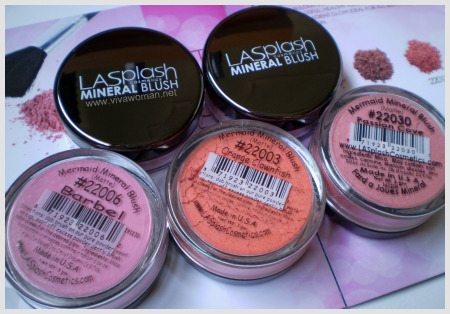 Pigmented mineral blush
I also received the LA Splash Blush in various colors.  Their blush is described as sheer but in reality, I find them to be very pigmented and I have to be careful not to pick up too much color so that I won't end up with overly pink or red cheeks.   In addition, the shades I've tried come with some shimmer  and so I avoid using too much during application.  And a special mention is the interesting shade – Orange Clownfish – which provided a nice coral shade when applied with a light hand.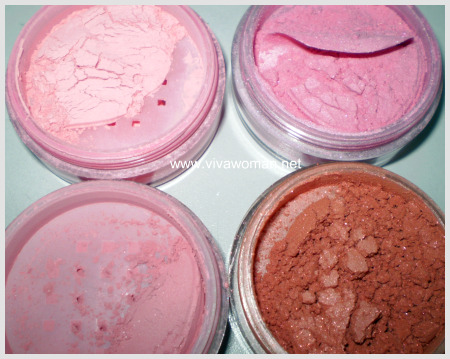 Price and availability
LA Splash Mineral Foundation retails at S$34.90 while the Mineral Blush retails at S$25.90.  You can find the range at Chai at Liang Court, John Little (not available at Plaza Singapura), OG at Orchard Point, Watsons at Bugis Junction, Ngee Ann City, and Tampines Mall as well as selected Sa Sa Cosmetics stores.  I believe the range is easily available in US and I was also told that it's available in many Asian countries.
Summary
Overall, I like the LA Splash Mineral Foundation and Blush.  I thought the retail price of S$34.90 for the mineral foundation is a tad expensive when compared to the usual mineral brands online although I admit that the quality does seem to justify the price tag.  However, if you're keen to give the range a try, you can get them at attractive prices since it's the GSS offer now!
Comments