DIY Beauty: Matcha green tea facial mask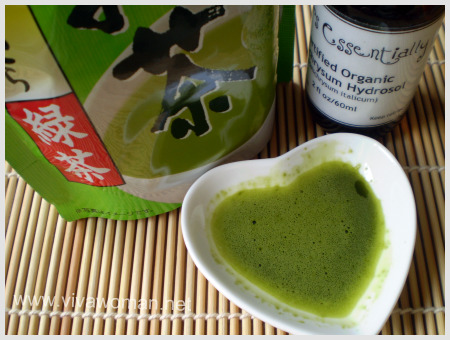 I love drinking Matcha powdered green tea! But little did I know that it makes such a wonderful facial mask! Absolutely gorgeous! And the best part is that this mask is easy to use because in addition to the Matcha powdered green tea, all you need is mineral or distilled water!
Easy-to-use homemade facial mask
I bought the Matcha powdered green tea from Meidi-Ya for $10. One teaspoon of the powder and half a teaspoon of water is all you need for the facial mask. It dissolves really quickly in the water to form a smooth watery paste and you can use this as a mask over your cleansed face for about 10 mins because it dries out really quickly.  After that, rinse your face with warm water and moisturize as per normal!
Experiment with different ingredients
I also tried it with my hydrosol and it works wonderfully. I'm thinking of adding it to yogurt for a richer face mask. In fact, the possibilities are endless and you can have fun experimenting it with honey, milk or even fruits!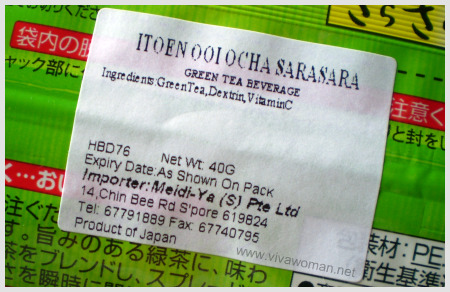 Contains more vitamins and antioxidants
Matcha powdered green tea are better than regular green tea because they are derived from green tea plants with leaves that are shaded prior to picking. In addition, they retain more of the vitamins and antioxidants because their leaves are steamed and not exposed to oxygen.  And Matcha powdered green tea that has a vibrant emerald green color are considered to be of a good grade because oxidized matcha is said to have has a distinctive hay like smell and a dull brownish green colour. 
Tremendous benefits for the skin
Matcha powdered green tea offers tremendous health benefits when consumed but they're also good when used topically because of the antioxidants from the polyphenols.  Apart from soothing the skin, green tea powder offers anti-aging properties, and are often said to exert sun damage protection by quenching free radicals and reducing inflammation.   In case you're wondering, Dextrin is a carbohydrate that is classified as a polysaccharide.   I found out through Cosmetic Cop dictionary that it is used as an adhesive when mixed with water and has water-binding properties for our skin.
Natural beauty inside out
I'm really loving my Matcha green tea powder now.  It makes a lovely drink which provides me with antioxidant effects inside out.  And as a homemade facial mask, it makes my skin feel soft and supple immediately after.  I think many of you are going to like this – unless of course you can't stand the grassy smell of green tea.
Comments