DIY Beauty: milk and oats hand soak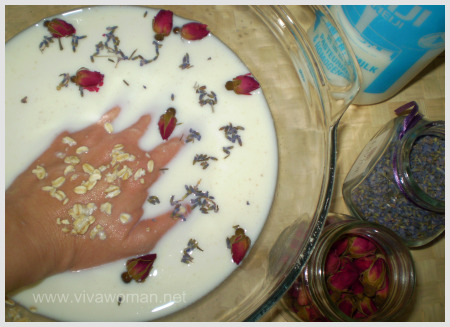 It's been awhile since I've tried any homemade remedies because I was really busy for the past few weeks to experiment with new recipes. Anyway, I'm making a comeback on this series with expired milk! Okay, the milk didn't turn bad but it was over the use-by-date by a couple of days. I thought it was a waste to throw the milk away and so I decided to use it on my hands as a hand soak!
Milk and oats are great for smooth and soft skin
Milk is great to soften our skin.  Because of the lactic acid found in the milk, it actually makes a great natural exfoliator, sloughing off those dead cells and leaving our skin smooth and soft.  Why do you think milk bath was a favorite of Cleopatra? Oats, on the other hand, possess some wonderful skin care properties because they have the best amino acid balance of all cereal grains and a high silica content, making them great emollients that restores the skin's natural moisture.  They are also said to be highly absorptive, hypoallergenic, and can be used to cleanse, exfoliate, soften and soothe the skin; suitable for most skin types.
Pour everything into a big container large enough for both hands
So first, I found a big glass container which can fit both my hands.  Next, I grinded some rolled oats and finally, I just poured the oats and the milk into the container.  For photo effect, I put in some rosebuds and lavender tea leaves but those can actually be left out of course.  Anyway, the smell of the milk and oats overcame the inital scent from the lavender tea leaves almost immediately.
Oats act as a natural scrub for the hands
To experiment with this homemade DIY hand soak recipe, you should have at least 15 minutes on hand as you need that time or longer to benefit from the dip.   Since there was nothing else to do, I massaged my hands constantly and I found the oats to be a great natural scrub.   And after 15 minutes,  I just washed my hands under the tap and moisturized them with my hand cream.  My hands felt a lot softer and smoother of course but the effects aren't long lasting unless I have the luxury of doing this as often as I want! 
Recipe can be used for foot soak too
This hand soak recipe  is really easy, but it's definitely indulgent considering the amount of milk wasted.  But since it was expired milk, I didn't feel so bad about using it.  You can use this recipe as part of your DIY manicure session too since it will make your cuticles really soft.   Milk by itself is good enough as a soak if you don't want to use oats and this recipe can of course be expanded to become a foot soak although the idea will have to wait since I don't own a cow or have an Anthony to fund my fancies.
Comments