DIY Beauty: goat's milk & banana hand mask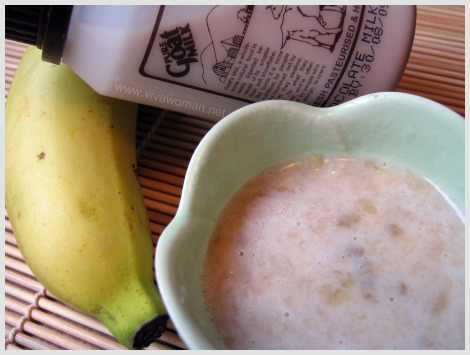 Last week, I visited the goat's farm with my son and as part of the tour, we were given goat's milk. My son and I looked at one another in horror. Who's going to drink all the three bottles? But I took them home and left them in the fridge anyway, thinking that I might garner enough courage to down them sometime in the week. Well, I did eventually because I thought they may not taste too bad since they're chocolate flavored. Big mistake! The after taste was quite horrible and I almost puke!
Beauty benefits of goat's milk
Still, I hate to bin them so I thought I should use them for my hands since I like the milk and oats hand soak I tried last time. Moreover, I learnt that goat's milk beats cow's milk with a higher rate of all comparable vitamins and proteins such as a rich source of digestible enzymes with a higher fat content. As such, goat's milk is said to great moisturizer; providing soothing qualities especially for the ease of eczema and dry skin.
Mixed with meshed banana
Instead of mixing with oats, this time I decided to mix the chocolate goat's milk with another food I dislike – the banana!  We have bananas in our kitchen all the time but I won't eat them.  The ripe ones are especially disgusting in my opinion and despite the skin benefits touted, I refuse to use banana on my face either.
Beauty benefits of bananas
Okay, to be fair, bananas are nutritious with strong sources of B vitamins, vitamin A, C, E and potassium.  Apparently, from what I've read, the potassium in the banana will kill bacteria in infected acne blemishes and heal them at a faster rate. The B vitamins, on the other hand, will calm irritation and even skin tone.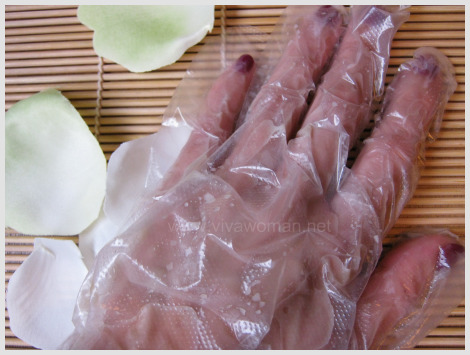 Mesh and mix
This homemade DIY hand mask using goat's milk and banana is very easy. If you're using it for both hands, you'll need about one banana. Put it in a container and use a spoon to mesh it up before adding about three tablespoons of the goat's milk. Mix both up into a paste. I made it rather watery here but you can reduce the amount of milk and make it more pasty if you like. Then protect your hands with a pair of disposable gloves and leave the mask for 20 minutes or longer before rinsing them clean.
Hand appeared more supple
For the purpose of experiment, I tried it on my left hand first because I wanted to see if there was any visual difference. The following picture that I took was on the next morning, and I thought the difference was noticeable as my left hand appeared a shade whiter and the skin looks somewhat more supple. I believe the whiter shade is due to the exfoliating effects from the lactic acid of the goat's milk. So this stuff is going to be great for my face too! But nah. I'll keep it on my hands for the moment. My hands are not really in great condition as you can see. Lots of veins and they really betray my age!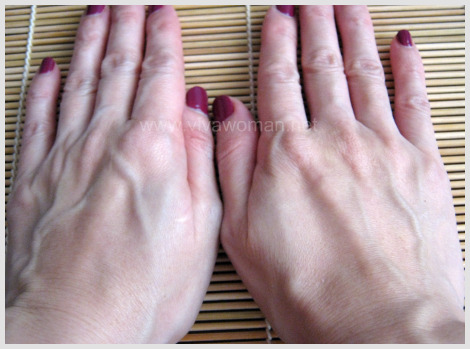 Replace goat's milk with cow's milk
One problem however is that goat's milk is not readily available for us in the supermarket. So this is just a rare opportunity since I don't plan to visit the goat's farm anytime sooner. However, it is definitely possible to replace the goat's milk in this DIY hand mask recipe with cow's milk. I think I like this hand mask recipe enough to want to continue using it for awhile, with the hope that I can get hands like Japanese skincare guru Chizu Saeki's!
Comments