I Nuovi makeup review from giveaway winner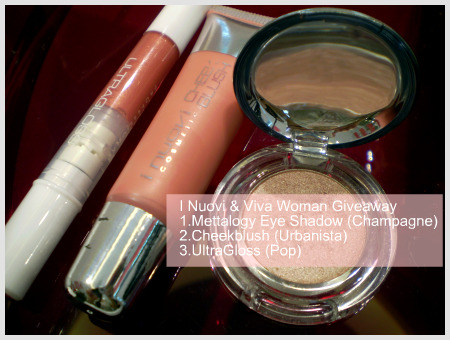 This is a guest post from Zhen Ling, the local winner of the I Nuovi giveaway, sharing her reviews of the three items she received – the I Nuovi Mettalogy Eye Shadow, Cheekbrush and Ultra Gloss. Zhen Ling is 20 and her skin type is described as, "normal when pampered, combi-oily when not. Pores often clogged."
I Nuovi Cheekblush (Urbanista)
I am reviewing this first because its my favorite of the lot.  I have tried Bobbi Brown Rouge Pot and Georgio Armani Cream Blusher but I like this one better.   It is hard to describe its texture.   I would say it is a gel-cream.  The big plus point is that it is not emollient and hence does not clog pores.  It is very easy to spread and blend as it doesn't dry too fast, so it's very noob-friendly.  Pigmentation is alot lower than Bobbi Brown but that means I don't have to worry about being heavy handed.  I personally hate anything with sparkles and this blusher has some but they are really finely milled so it doesn't bother me.  Overall, I like it because a thin layer looks very natural so it could be my everyday blusher.
I Nuovi Mettalogy Eyeshadow (Champagne)
The color did not remind me of champagne.  Champagne to me is a peachy-gold but this was more like a pink with slight copper tones.  Overall, a cool color still.  The swatch on the website was way off IMO.  What impressed me the most was how finely milled the powder was. Even the sparkles were tiny! Pigmentation was good.  In fact, the colour had great depth and I was surprised how good it looked on its own.  This beats a lot of departmental store brands!
I Nuovi Ultra Gloss (Pop)
I did not like lip glosses because those I've tried in the past sucked.  I have very pigmented lips and prefer lip glosses that are not sticky, and this answered my needs.   Stickiness is only detectable if I smack my lips really hard.   This is more sparkly than glossy and is super moisturizing – even better than some lip balms.   Sparkles are also not gritty.  Pop is a very pigmented color but not all within the range are so.  I've swatched some sheer colours at the store.  Overall, a cool lip gloss everyone should try, but I might move on the the lip polish next because it's not so sparkly.
All products are unscented.
Check out I Nuovi products at www.inuovi.com.
Comments