I Nuovi concept shop tour & a giveaway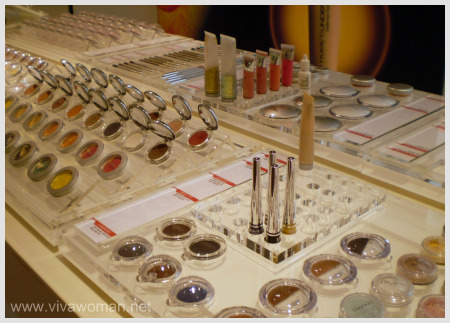 I'm not much of a makeup junkie so even though I have come across I Nuovi at Sa Sa Cosmetics, I haven't used their products before. I do know however, that their Pro Lash is rather popular as I have seen it mentioned in some of the beauty blogs. Anyway I had the chance to visit their concept store at Suntec City over the weekend to pick up two products that I will be reviewing in time and to take pictures for the giveaway. (Yes! Read till the end for the details!)
I Nuovi Play Bar for fun with colors
That's when I realized that I Nuovi Professional has a complete range of makeup and even some basic skin care products. The concept store is set up with a Play Bar where customers can test their multitude of eye makeup. I must say they have so many colors to play with!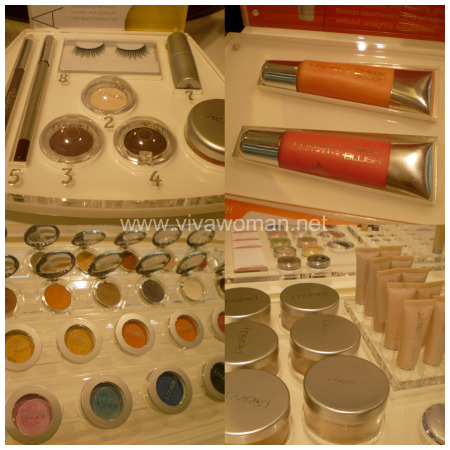 Makeup colors are pigment rich and used in stage plays
I Nuovi is a Singapore brand but according to information from their website, their products are developed in Italy, France and Japan. I didn't test any of their colors while at the store but just looking at the makeup of the sales consultants, I believe it's true that their makeup colors are pigment rich and of high intensity. No wonder they're designated as the official makeup for some of the stage plays such as The Crab Flower Club.
ProLash EX03 is the current best seller
While at the store, I noticed their Wall of Fame which indicates their top 10 best sellers of the month. At the top of the list currently is ProLash EX03 which I was told is a very natural looking false eyelash and is out of stock at the stores. I have seen how lovely their lashes look on PrettyBeautiful and was quite happy that they're sponsoring a set for my June VivaBella Giveaway.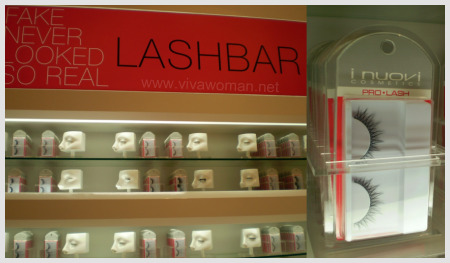 Giveaway for two readers – Singapore & International
But while you wait for the June giveaway, two of you will get a chance to win these three items kindly sponsored by I Nuovi Professional:
1. Mettalogy Eye Shadow in Champagne.
2. Cheekbrush in Urbanista.
3. UltraGloss in Pop.
I requested two sets – one for my local reader and one for my international reader.  But please note that the rules for this giveaway is different from that of my monthly VivaBella Giveaway so PLEASE READ ON carefully.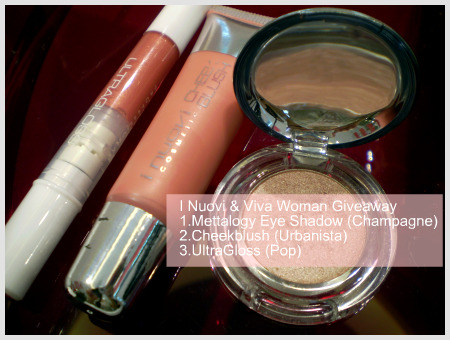 How to participate
Leave a comment to tell me if you have used I Nuovi products and which is/are your favorite. If you haven't tried their products, you might like to explore the I Nuovi website and let me know which you like to try. There is no need to leave a link but please tell me WHICH COUNTRY YOU'RE FROM. Each person is entitled to ONE ENTRY MAXIMUM PER DAY. You can increase your chances of winning by entering another day but you should be commenting on a different product each time.
1. You must follow the rules for your entry to be valid.
2. Remember to provide a valid email address.
3. The items are not redeemable for cash.
4. The giveaway will be opened till 12 midnight SST on 24 May 09.
5. A winner will be randomly picked and announced.
6. Everyone can participate, no matter which country you reside.
In order for me to administer my giveaways systematically, invalid entries will be deleted. Like I've stated, you have to follow the rules and they're quite easy really. So enter now and have fun!
Update: PrettyBeautiful also has a giveaway involving 3 sets of I Nuovi ProLash & a Liquid Pencil.  Check it out here.
Comments