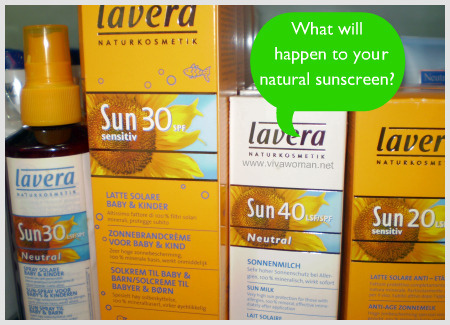 This week, I received a newsletter from Marie-Veronique Organics with information about how the introduction of a standardized logo for UVA protection in addition to the SPF rating under the new European regulation would affect their products. According to the company, sunscreen labels in compliance with the new EU regulations could look like this:
Brand X Sunsreen
SPF 30 UVB protection
***** UVA protection
(5 stars would indicate maximum UVA protection)
This label tells you are getting UVB protection at the SPF 30 level, meaning it filters 96.6% of the UVB rays, and maximum UVA protection, meaning it filters both short (320-340 nm, a.k.a UVA-2) and long (340-400 nm, a.k.a. UVA-1).UVA rays.
Titanium dioxide offers only partial UVA protection
Hence, some natural sunscreens containing only titanium dioxide such as Dr Hauschka's are affected by this regulation and has since discountinued their range of sunscreen. This is because titanium dioxide's protection range is from 290 to 360 nm, and provide protection through all of UVA2 range but partially into the UVA1 range.

Zinc oxide offers effective UVA & UVB protection
On the other hand, sunscreen formulations offering zinc oxide as the active ingredient provide complete and effective UVA1 and UVA2 protection as it has a broad range of effectiveness, covering UVB as well as both short (320-340 nm, UVA-2) and long (340-400 nm, UVA-1). In addition, the newsletter also explained that regular zinc oxide blocks visible light up to wavelengths 700 nm, whereas zinc nanoparticles block only up to 380 – 400 nm. (source)
More natural sunscreens with zinc oxide
So for those who are using natural sunscreens containing only titanium dioxide, it's time to make a switch because you're not really getting sufficient protection. I actually welcome this piece of news because this would mean that going forward, we can see more natural sunscreens containing zinc oxide!