Why mineral sunscreens and foundation may be better if you have melasma or hyperpigmentation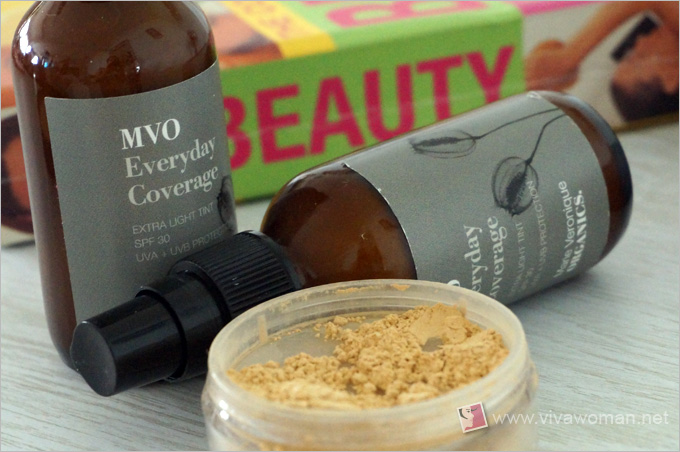 I was thrilled to discover one more reason to use mineral sunscreens containing zinc oxide and titanium dioxide over chemical sunscreens–they offer protection against visible light on top of UV rays. Okay, I can almost hear some of you asking: "What in the world is visible light and how is this relevant for me?" Well, you'll want to read on if you have melasma or are prone to hyperpigmentation or if you've been constantly worried how that fluorescent lighting in your room is affecting your skin.
What is visible light and how does it affect your skin
First of all, visible light simply means the light our eyes can see, or the series of electromagnetic wavelengths that we can detect or see. These wavelengths are sensed as colors and sources of visible light are fires and hot glowing objects (yup, including that fluorescent bulb shining over your head or your desk). Such light rays are far less harmful than UV rays but unprotected exposure can lead to development of free radicals and hence, aging of the skin. In fact, visible light can darken skin pigment or worsen melasma (source).
What ingredients protect against visible light
Chemical sunscreen ingredients only protect skin from UVA and/or UVB rays but do nothing for visible light. However, inorganic ingredients like zinc oxide, titanium dioxide and iron oxide protect against visible light but the spectral protection of these agents varies according to their particle size. Larger particles of titanium dioxide and zinc oxide can protect in the visible range (source). So what does this mean?
How does this affect your sunscreen
Well, first of all, it means if your sunscreen has zinc oxide, titanium dioxide or iron oxide, it is better able to provide protection over both UV rays and visible light rays. Second, all the three ingredients should be non-nano sized. As a matter of fact, the larger their particle size, the better the protection (think pasty white formula). Finally, the higher the iron oxide content in your sunscreen, the better able is your sunscreen able to protect your skin from visible light.
The difference in visible light protection afforded by high SPF sunscreens with inorganic sunscreen agents was illustrated in a recent study that compared 2 inorganic sunscreens containing titanium dioxide, zinc oxide, and iron oxide for their ability to protect against blue light sensitivity induced by aminolevulinic acid application. The sunscreen containing 3.2% iron oxide offered a protection factor of 22:1. Whereas the sunscreen with a lower concentration of 0.3% iron oxide offered only a protection factor of 2:1 (source).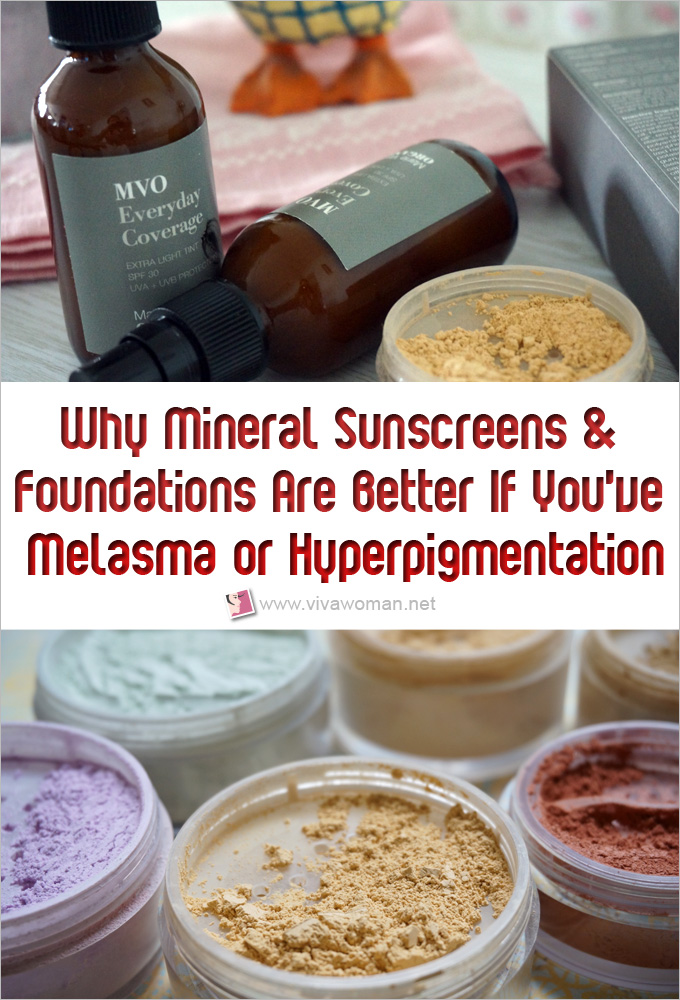 My perfect combination: mineral sunscreen and mineral foundation
So this means my daily sunscreen—Marie Veronique MVO Everyday Coverage SPF30 offer me greater protection against UV and visible light rays as it contains zinc oxide and iron oxide too. On top of that, I discovered that the mineral foundation powder I use basically contains all the three ingredients. WOO HOO! I don't know about you but for someone diagnosed as having a mild case of melasma, this is such an awesome news!
My tips for sunscreen
If you have issues with melasma or hyperpigmentation and aren't using a sunscreen containing any of the three ingredients mentioned, you might want to find one that does. Not many sunscreens have all three ingredients. My preference is mineral sunscreens and the one I use, MVO Everyday Coverage SPF30, comes with zinc oxide and iron oxide. I've used this sunscreen for many years now and what I've found to be true is that it helps keep my skin pigmentation under control. Andalou Naturals Beauty Balm BB Cream is another I've tried with zinc oxide and iron oxide. While I kinda like the texture, I can't vouch that it does anything for my pigmentation as I didn't use it long enough. As for chemical sunscreens, many of them have one or two of the physical blockers—either zinc oxide, titanium dioxide or both (concentration lower though) but unless they're tinted, most of them do not contain iron oxide although that may changed in time to come.
My tips for mineral foundation
As for mineral foundation powder, they are pretty apt for those with melasma and hyperpigmentation issues. Although most foundations have titanium dioxide, zinc oxide and iron oxide, their concentration are a lot lower than that found in mineral foundation powder. By the way, I've been using mineral foundation for ages and they have been working well for me. If you're new to mineral makeup, you can check out 5 tips to selecting the best mineral makeup that I wrote recently.
Comments