Review: Lavera Soft Rose Lip Balm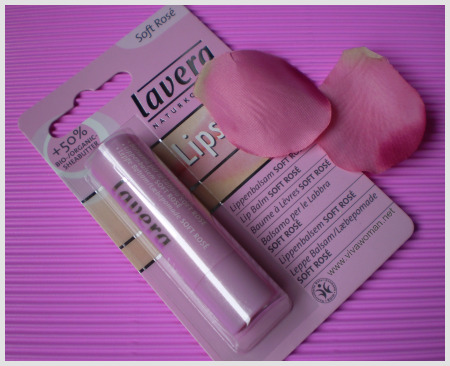 I love most of the products from Lavera and more so if I got them at a substantial discount! Like this Lavera Lip Balm in Soft Rose. I wouldn't have gotten it at the original price which is slightly over S$12 but at only about S$4? Of course I had to grab one to try out!
Doubles up as a lipstick
I was kind of puzzled to find out through the web that this lip balm does double duty as a lipstick because I didn't realized initially that this lip balm comes with a faint pink color. I don't see much of the pink when applied on my lips anyway although I concede it does add a soft shimmer.
Contains 10 flower and plant oils
The lip balm is described as being packed with the ten nourishing flower and plant oils but don't expect 100% organic or natural content. It contains: Shea Butter, Olive Fruit Oil, Beeswax, Candelilla Wax, Cocoa Seed, Butter, Squalane, Jojoba Seed Oil, Lysolecithin, Vitamin E Acetate, Soybean Glycerides, Polyglyceryl-3 Ricinoleate, Soybean Oil, Shellac Wax, Sweet Almond Oil, Avocado Oil, Coconut Oil, Rapeseed Sterols, Calendula Flower Oil, Aloe Vera Leaf Extract, Wild Rose Oil, Vitamin E, Vitamin C Ester, Bismuth Oxychloride, Mica, Titanium Dioxide, Zinc Oxide, Carmine, Iron Oxides. It doesn't come with any SPF but I think the Titanium Dioxide and Zinc Oxide might offer a little sun protection for the lips.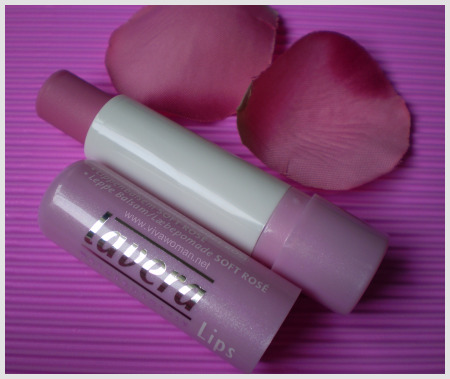 Pretty color but weird smell
I like the soft pink color of the lip balm – it's really pretty and unique! The other thing I like is the moisture factor. It doesn't come with fragrance but there is a weird smell to this lip balm that I don't like. However, the smell is only present if I take a close whiff at the stick. Other than that, I think it's a great lip balm to get at such a great discount. At the original price, I doubt I'll ever lay my hands on it.
Availability
Spotted at Phyto Organics at #B1-74 Raffles City is another one with green packaging which is the Sensitiv formula. But online, you have a lot more other options!
Comments