Review:Lavera Faces Calendula Cleansing Gel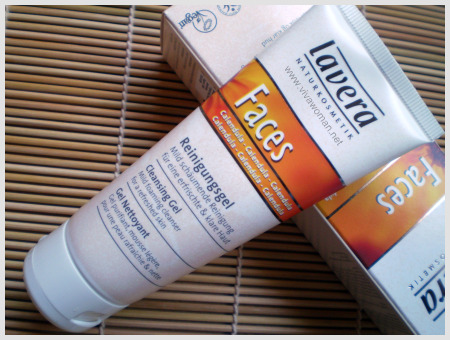 I quite like the toner and exfoliating wash from Lavera Faces Calendula Series and thought their cleansing gel shouldn't be too far off the mark.  So I decided to try it when it was on promotion at S$7 from Phyto Organics. 
Formulated for combination skin
This is a gentle foaming formula suitable for combination skin.  It contains pure extracts of calendula, witch hazel and mallow from certified organic sources which help to tone skin and regulate oil production.  It is said to provide effective cleansing of makeup and impurities without drying the skin.   However, I have reservations about using this cleanser to remove my makeup as I don't find that it cleanses makeup very well unless I use it a few times.  Even in the morning when my face isn't very dirty, I have to double cleanse with this cleanser.
Gentle and does not foam much
Lavera Faces Calendula Cleansing Gel smells pleasant and in terms of texture, it maybe quite similar to Cetaphil because it doesn't foam much – something which bothers me a little as I prefer foaming cleansers.  But having said that, this cleansing gel does keep my face refreshed and clean after a double cleansing process.  And because it is gentle, it does not strip the natural lipids from my skin after two washes.
Ingredient listing
The ingredients for the Lavera Faces Calendula Cleansing Gel include: Water, Grain Alcohol, Glycerin, Sodium Lactate, Sodium Lauryl Sulfoacetate, Xanthan Gum, Sodium Cocoyl Glutamate, Disodium Cocoyl Glutamate, Calendula Flower Extract*, Witch Hazel Water*, Mallow Extract*, Lemon Balm Water* Natural Oils: Limonene*, Linalool*
I didn't pay attention and hadn't noticed the alcohol in this cleanser until I was writing this review.  If I had, I probably wouldn't have bought it even at S$7.  I know it's grain alcohol but still, I have an issue with that as I'm trying to avoid skin care products using any form of alcohol on my mature skin as far as possible.
Original retail price is $19
So though the Lavera Faces Calendula Cleansing Gel is gentle and works quite well to cleanse my skin, I won't be buying this again.  The original price is S$19 and is more expensive than my usual Sukin cleanser which does a good job as an affordable gentle facial cleanser. 
Get $5 off a minimum purchase of $50 at Watsons
Anyway, I'm rather disappointed that Watsons is not offering any of the Lavera products at a discount during this GSS!  But I still have the $5 voucher from the You Awards application form and perhaps that can be put to use soon.  And while I'm it, here's another plug for the You Awards which is open for recruitment till 10 June next week.  Details are available on their website which tells you how you can win fabulous prizes including $2000 cash  just by participating in one of the eight categories.  Or better still, pick up the application form which will entitle you to a $5 voucher based on a minimum purchase of $50!
Comments