Seven natural mineral sunscreens compared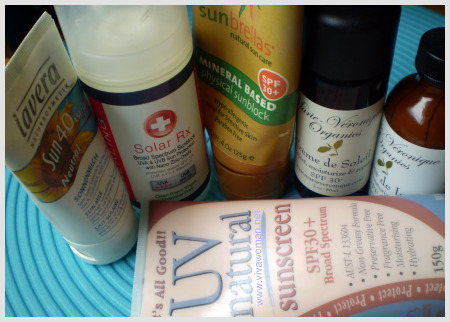 I'm re-posting this because I just realized that I missed out UV Natural Sunscreen earlier!  So instead of six, it's now seven of the mineral sunscreens tried and tested by Viva Woman.  Most of these natural physical sunblockers, have at one point of time, been ranked as the top 10 sunscreens on the EWG list. However, the rankings at EWG keeps changing and as of now, they're within the top 27 out of 129 recommended.
1. Marie Veronique Organics Creme de Soleil SPF 30+
I don't know why this is being ranked as number 20 on the EWG list but my quest for the perfect mineral sunscreen has stopped since I started using this sunscreen. It's got 20% non-micronizied zinc oxide and I love that all its other ingredients are natural and organic too. In terms of texture, this applies beautifully, hardly leaving much whitecast for my fair skin and I don't have to worry about it causing my skin to become oilier either. My review is here and there's also a tinted version for those who are worried about the slight whitecast.
2. Marie Veronique Organics Creme de Jour SPF 30
I use this interchangeably with Creme de Soleil now and it's almost similar in ingredients and formulation, containing also 20% non-micronized zinc oxide. However Creme de Jour is a vegan formula and in terms of application, leaves more of a whitecast. Although this ranks better than Creme de Soleil at number 8 on the EWG list, I prefer the latter as stated in my review because it is less drying.
3. Keys Soap Solar Rx Sunblock SPF 30
This all-natural formula ranks as one of my favorites except for the fact that it contains 16% uncoated nano-zinc oxide. However, because of the nano particles, Keys Solar Rx is ideal for everyday use as a foundation for makeup or alone. The organic content of avocado, black cumin, carrot seed oil, and shea butter is rather emollient and so it is not possible to apply too much of this. It used to be the at the top of the EWG best sunscreen list but has since, moved to the 4th position. You can read my review here.
4. UV Natural Sunscreen SPF30+
I had high hopes for this sunscreen because the ingredients look really promising.  But it turned out to be too heavy for my face and I broke out initally while using this although all were good again once I double cleansed my face properly.  But funnily,  the 24% zinc oxide content dried up my skin at the same time and so I had to ensure I had proper moisturizing prior to using this.  I do like this sunscreen as it left me no whitecast due to the iron oxides.  But because of the initial breakout, I developed a slight phobia using this on my face.  In addition, the zinc oxide is micronized.  So now this only goes on my hands.  The only time I use it on my face now is when I go swimming because this formula is water resistant.    This sunscreen has moved from no. 12 to 16 on the EWG safest sunscreen list and a more detailed review is available here. 
5. Jason Sunbrellas Mineral Based Physical Sunblock SPF 30+
This is the first in the mineral series I have tried in 2007. This hypo-allergenic sunblock has no mineral oil, petrolatum, waxes, fragrance, alcohol or paraben and it contains 8% titanium dioxide and 2.5% zinc oxide. Application can be a problem as it leaves quite a heavy whitecast but good thing it isn't greasy. My original review can be found here and this sunscreen is currently ranked 27 on EWG's list.
6. Badger SPF30 Sunblock
While I was testing the Jason sunscreen, I also tested a sample of Badger SPF30 Sunblock. At that time, it was the number 1 safest sunscreen rated by EWG but it has since moved down to the 7th position now. It containts 20.5% micronized zinc oxide which leaves an extreme whitecast when applied liberally. However, this sunblock is very greasy and is difficult to be used on the face; which is why I never bought the full-size. Read my review here.
7. Lavera Sunscreen Neutral SPF 40
This is my least favorite of the seven natural mineral sunscreens although it did work for me. Texture wise, it is quite similar to Badger SPF30 Sunblock but its key ingredient is just titanium dioxide. In addition, it is rich, greasy and leaves a whitecast when too much is applied. Read my detailed review here.
Overall summary
So my preference of the sunscreen is ranked in the order listed. My criteria for choosing is based on:
– the amount of zinc oxide used and if it is micronized or otherwise;
– the combination of other natural/organic ingredients included; and
– the application of the sunscreen – little whitecast and not too oily.
Marie-Veronique Creme de Soleil is my favorite and Lavera Suncreen Neutral is my least favorite of the seven tested.
And like I mentioned before, I choose mineral or physical sunscreen because of my personal preference. It does not mean that chemical sunscreens are bad. On the contrary, I believe those European sunscreens made with Mexoryl or Tinsorb are fairly superior. But unfortunately, they tend to contain a host of other chemical ingredients which I'm not keen to use on my skin.
Comments