Supersmile Professional Whitening System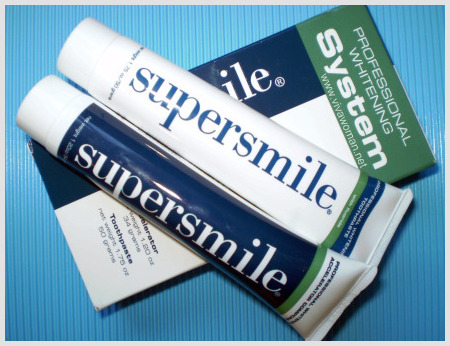 I'm always looking for ways to avoid the dentist and so when I read about how the Supersmile Professional Whitening System can whiten my teeth without the use of messy trays, I got it through Drugstore via a local spree. 
Supersmile Professional Whitening System is a set comprising a 50 grams whitening toothpaste and a 34 grams whitening accelerator which is transparent and gel-like.    It is easy to use; all I need is to squeeze equal amount of the toothpaste and the accelerator on a dry toothbrush and brush away for 2 minutes.  No additional effort required! 
Contains baking soda
The Supersmile Professional Whitening System was created by Dr. Irwin Smigel, founder of The American Society for Dental Aesthetics and the acknowledged father of aesthetic dentistry.  I have no idea who he is but I was intrigued to learn that this product actually contains baking soda, an ingredient which I recommended for DIY teeth whitening!  
Supersmile tooth whitening products are the world's first oral hygiene line to offer the miracle of Calprox®. This patented, new scientific breakthrough whitening agent is combined with baking soda and is encapsulated with 16 other ingredients to non-abrasively dissolve the protein pellicle to which coffee, tea, tobacco, red wine, smoking stains, and plaque adhere, causing discolored teeth.
Low abrasion level
And unlike those home-bleaching teeth whitening systems,  the Supersmile Whitening Toothpaste is said to have an abrasion level 75% below that permitted by The American Dental Association guidelines.  So I don't have to worry that my teeth will turn porous after using this whitening system.
A shade whiter after one use
Apparently results vary with individuals but I have to say that this is the only commercial teeth whitening product I've used that work almost instantly for me.  After just one brush, it got rid of the superficial stains on my teeth and they appear whiter by a shade!  And after about three weeks of usage, my teeth is now a lot whiter.  Although the baking soda helped to whiten my teeth but it was impossible to use everyday over a long run without hurting my gums since it's in the form of powder.  With Supersmile Professional Whitening System, I had no such worries and that's why the area near to my gums are also whiter now.
No yellow stains but not pearlie white either
However, I doubt that my teeth will be as white as those seen on models or celebrities who had theirs professionally bleached.   But at least I can now smile with more confidence knowing that my teeth doesn't look yellow just having paid about US$30 for this set which I can probably use for about six weeks.
Availability & cost
If you're interested to find out more about this product, you can look up their website at www.supersmile.com.  It's available at their website and at drugstore.com but I found cheaper sources starting from US$27+ at BizRate.
Comments