How My Teeth Got Zapped And Are Now 14x Whiter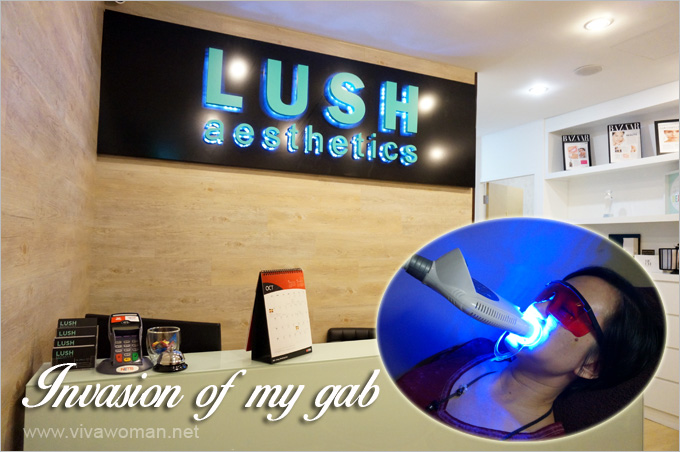 My teeth were whitened 11 days ago and they are now 14 shades brighter than before. Nah, they are not pearly white like those on the models of toothpaste commercials but nonetheless, I'm quite happy with the results. I've got before and after treatment pictures accompanying this post so you can make your own comparison too. However, I need to state that it was no natural treatment I went through (not that I know of any that can lighten my teeth by 14 shades anyway) but before you diss me, it was not peroxide I use either. So how exactly were my teeth whitened? Heard of LED teeth whitening?
LED teeth whitening is a process which involves applying a whitening gel on my teeth. This follows on with the use of an LED lamp to activate the whitening gel to whiten and brighten my teeth, to gently oxidize the discoloured proteins within the teeth. I was told the whitening agent used on my teeth was sodium perborate, which is apparently safer than concentrated peroxide and will not damage teeth enamel or structure. Lush Aesthetics, the clinic that offers the treatment, assured me that the treatment is safe and is even suitable for people with sensitive teeth.
I've long wanted to have my teeth whitened but stopped short because I've heard personal accounts of people who have had their teeth turned sensitive after doing so. I've also had a near disaster with a teeth whitening home kit and I was completely traumatized after that. But since this is a non-peroxide treatment, I was keen to give it a go.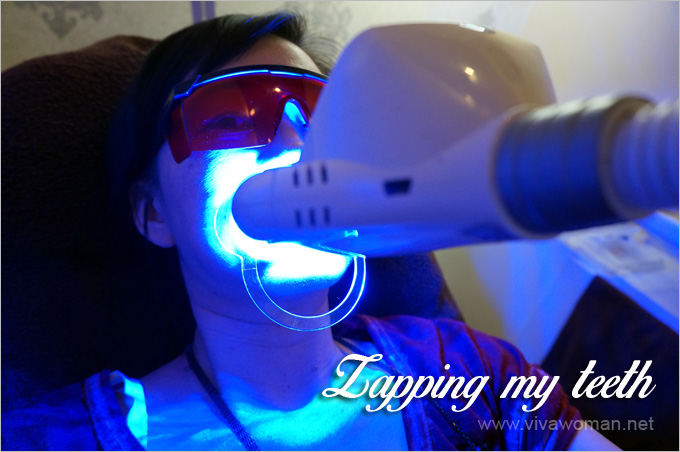 Prior to the treatment, the manager at Lush Aesthetics sat me down to discuss the whitening process and showed me the shade of my teeth before treatment. She also explained how the treatment might adversely affect my mouth temporarily. Then, I was ushered into a small room to begin the treatment.
First, my mouth was fitted with a cheek retractor and a gel gum shield was applied to my protect my gums. Vaseline was applied to my lips before sodium perborate was applied to each tooth. The solution is then activated by focusing a cool blue LED light onto my teeth for three 15 minute cycles (45 minutes in total).
Both my upper and lower teeth were treated at the same time. Although the procedure was painless, it was uncomfortable. I mean, imagine if your mouth is kept opened for a good 45 minutes! The worst was that my saliva pooled in my mouth because I'd tried not to swallow so much even though I was told it was okay to do so. By the end of the session, when everything was removed, I found myself rushing to the sink to wash my mouth.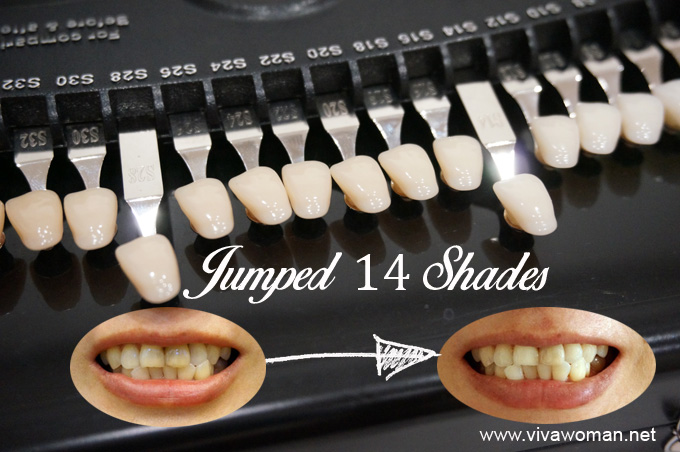 So is the LED teeth whitening worth a shot? I think it is because the effects are immediate! I was very impressed by what I saw even though my teeth are far from pearly white. You see, my teeth are quite stained from drinking tea over the past few years. No amount of whitening toothpaste can make them look any brighter. But just 45 minutes after using the LED teeth whitening, my teeth became 14 shades lighter!
Other than the discomforts I felt, I didn't experience any pain during or after the treatment. Neither did I get any ulcers following the whitening as some do. But I did get a bit of a bruise on my upper lip, which went away after a few days. Other than that, all was good for me even till now. I was requested not to drink tea and coffee, and anything hot for three days. I was also asked not to brush my teeth too hard during that period.
Following are my before and after treatment pictures. Lighting is not the same as one was taken at night while the other in the day. However, the whitening is quite evident. As mentioned, they are not pearly white and if I want that kind of result, I will have to schedule another teeth whitening session.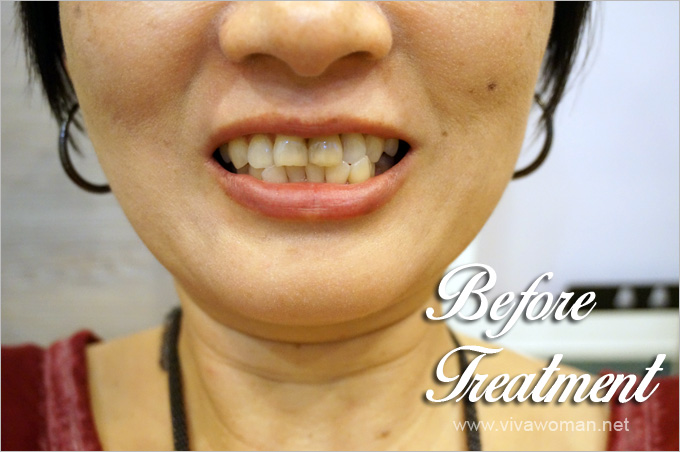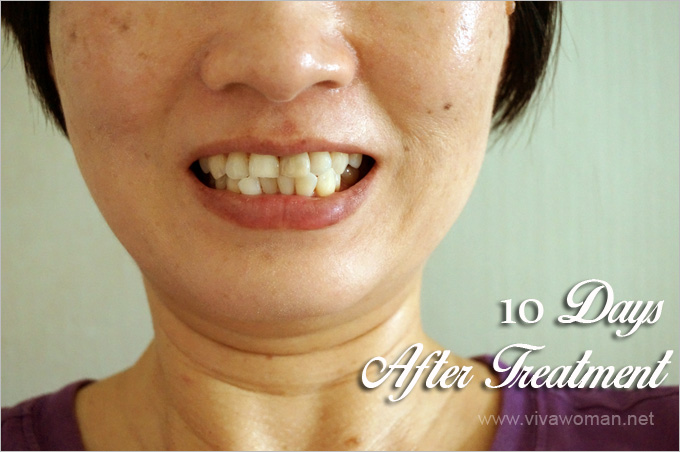 The LED teeth whitening isn't a permanent solution to white teeth but the results can last for years if you take care of your teeth. But it is a clear solution to stained and discolored teeth because it brightens and lightens your teeth dramatically in less than an hour. Most customers are able to achieve 5 to 8 shades lighter in less than an hour.
Cost of such a treatment isn't that expensive. Lush Aesthetics, located at Tanglin Shopping Center, is offering the treatment at S$188 and you can check them out at their website here or call them at 6737 4964 to book an appointment. Their staff are more comfortable speaking in Mandarin although they are conversant in English. But their friendly attitude certainly made the entire experience less clinical and frightening for me.
LED Teeth Whitening at Lush Aesthetics in Singapore
S$188
Pros
Friendly service
Instant result
Reasonable pricing
Cons
Uncomfortable
May cause bruising
Not centrally located
Comments