How 5 Famous Hollywood Celebrities Use Baking Soda In Their Beauty Routines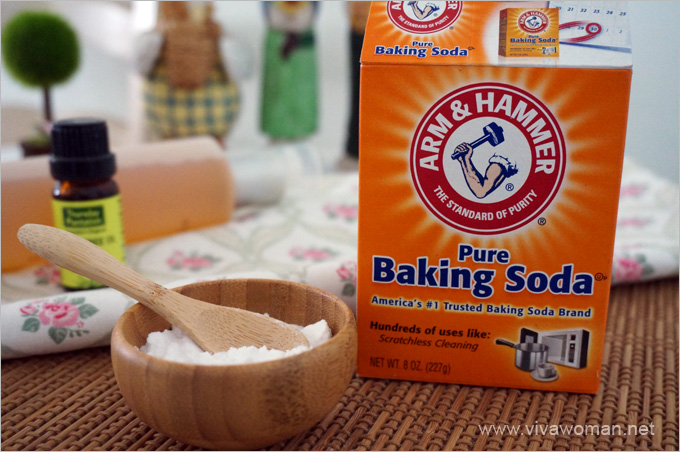 Hollywood celebrities are well known for having megabucks to splurge on all kinds of beauty treatments, agree? So it's a little incredulous that they should even want to dabble in DIY homemade beauty remedies. Come on and get real, people! But despite being cynical, I think there could be some truth in reports that some of them resort to kitchen ingredients like a less than $2 box of baking soda. I mean it is cheap, easily accessible and best of all, a real multitasker! So little wonder the simple insignificant ingredient has found its way into celebrities' beauty routines.
Okay, some of you have asked me if baking soda is the same as baking powder as both are found in similar sections at the supermarket. Well, both are raising agent for cakes and bread but they are chemically different. Baking soda is a sodium bicarbonate—a white solid that is crystalline but often appears as a fine powder with a slightly salty, alkaline taste resembling that of washing soda.
Apart from baking, baking soda is a useful ingredient in the kitchen and often used as a cleaning agent as well as odor absorber. But because it is alkaline and can regulate pH balance, baking soda is a great ingredient for our skin too.
So now that we've got the facts about baking soda out of the way, let's take a look at how it is being used by the Hollywood celebrities.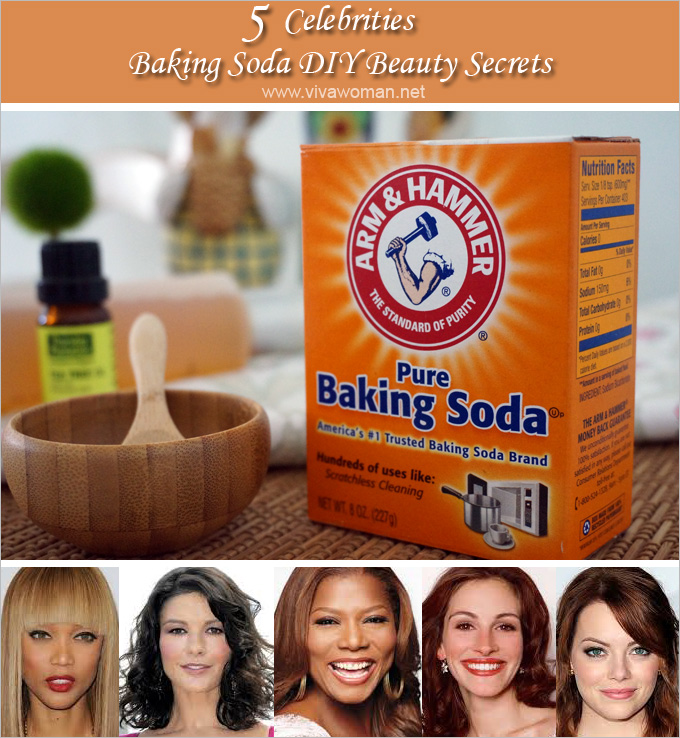 Julia Roberts
Julia Roberts who is famous for her bright smile actually said she owes it to her grandfather's tip of using baking soda. "I brush my teeth with baking soda. My grandfather would put a big heaping mound of it on his toothbrush. He had only one cavity in his entire life." I don't suppose she uses it every day but it's possible that she uses it once in a while.
Catherine Zeta-Jones
Even Catherine Zeta Jones is said to whiten her teeth with baking soda but the Hollywood beauty takes it further by using one to three pureed strawberries mixed with a half tablespoon of baking soda followed by a brushing of regular toothpaste to keep her teeth healthy. Okay, apart from the fact that strawberries contain malic acid which is believed to be a whitening agent, I think dear Catherine doesn't like the taste of baking soda alone. (If you hadn't tried it, it taste salty and weird.)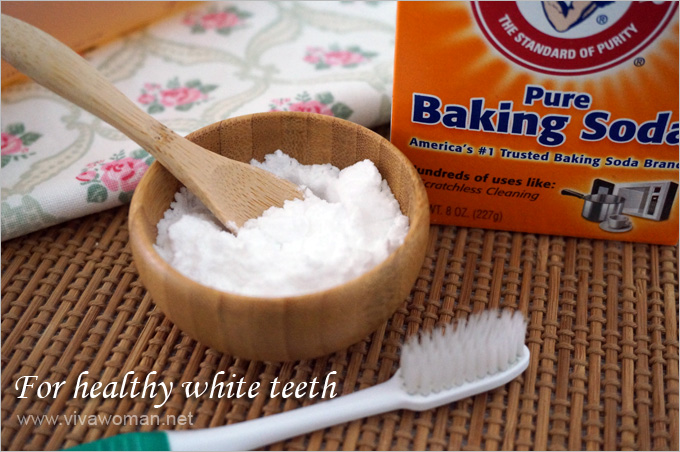 Emma Stone
Actress Emma Stone told France's ELLE magazine that she uses the kitchen ingredient to exfoliate—to scrub her face and get rid of dry patches.
Queen Latifah
Baking soda is also said to be one of Queen Latifah's favorite beauty secrets and it came from her grandmother. Like Emma, our queen uses baking soda to exfoliate.
Tyra Banks
Tyra Banks apparently shared in her talk show on how to make an exfoliating cleanser by adding baking soda to the everyday cleanser. She also recommended mixing baking soda with a little water and apply it to the skin as a mask no more than three times a week to combat acne.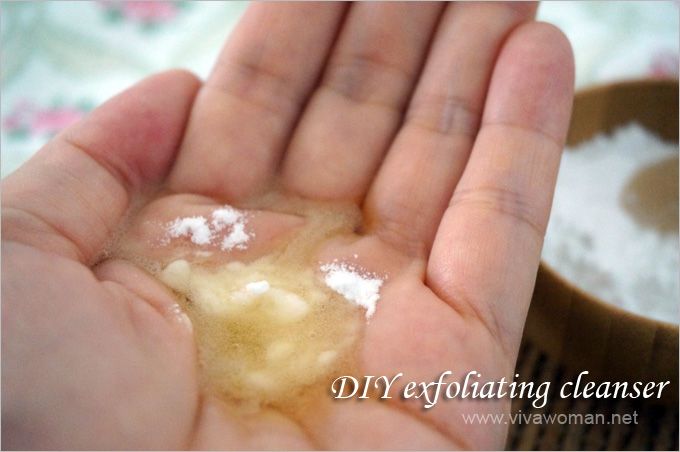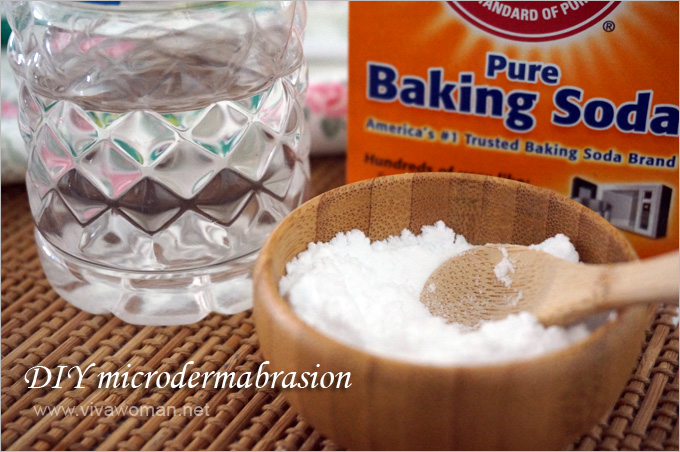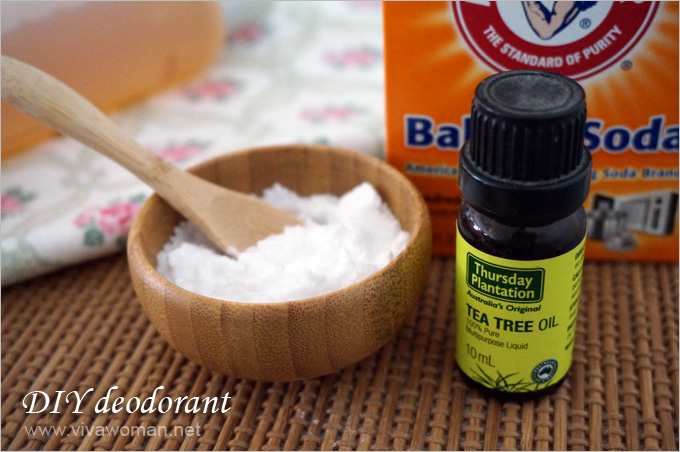 My experience with baking soda
Personally, I have used baking soda in different ways. I really started using it to brush my teeth and was quite happy with the results. Baking soda can indeed brighten teeth by a shade or two as it is able to remove temporary stains caused by drinking tea and coffee. But because it is abrasive, it shouldn't be used daily.
I rarely use baking soda to exfoliate my face but it does a fine job as an exfoliant and works wonderfully as a microdermabrasion dupe. All you need is to add water and make a paste, then rub it on your face very gently. The trick is not to scrub hard and not to use it too often (just like how you only need microdermabrasion once in a while). Alternatively, mixing baking soda with other ingredients like oat flour will help lessen the abrasiveness.
Baking soda is also good to be used as a deodorant base. I made one using just some water and a few drops of tea tree essential oil. But while it is effective, it is unsightly as it does leave white stains on the clothes.
Finally, I used to add baking soda to my dry shampoo but since I've found the perfect combination in using arrowroot powder and rice powder, I have left the ingredient out of my recipe.
Have you tried using baking soda in your beauty routines? If you haven't, are you inspired to try?
Comments