Vote & win $150 Watsons voucher + products
Being someone who is pretty lazy, I don't usually participate in contests and giveaways. But I did something unusual yesterday. I voted for one of the participants in the Watsons You Award under the category of Flawless Face.   Okay, I was looking at the website for information to put up this post, and while clicking through and looking at the profiles of the finalists, I was attracted to this girl in that particular category. I thought she looks really good in that picture and so I decided to vote for her.
Easy to vote!
And thank goodness Watsons is making it really easy to vote. All I needed to do was to fill in four simple personal information – name, email, contact number and NRIC number – key in a text verification and the vote was in.   I'm not very lucky with these things but it'll be nice to win a $100 Watsons voucher, aside from the $50 product hamper!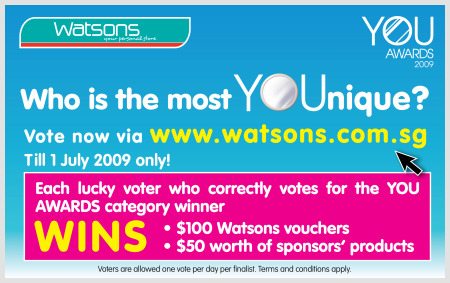 Vote on all 8 categories to increase your chances of winning!
So if you're from Singapore and you're also keen to win the $150 voucher and product hamper from Watsons, all you need to do is to visit the You Award website and vote for your favourites in any or all 8 categories. Voting is on till 1st July 2009! 
And remember, the more you vote, the greater your chances of winning!  So start voting today!
Comments