Mud & clay based masks for oily skin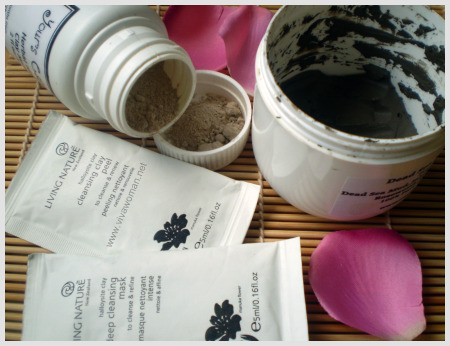 According to a recent newsletter by The World Of Organic Skincare, mud and clay masks are great for balancing out oily skin – a view that is also echoed by Howard Donsky, M.D., an associate professor of medicine at the University of Toronto and staff dermatologist at Toronto General Hospital.  
According to Dr Donsky, "Clay masks or mud masks are worthwhile."  However, he also cautioned that masks will make skin feel good and look better only temporarily.  Additionally, the darker brown the clay (mud), the more oil it can absorb. White or rose-colored clays, though, are gentler and work best on sensitive skin.  (Source:  The Doctors Book of Home Remedies)
Use weekly to balance the skin
Well, temporary or not, I certainly like using such products as they're incredibly easy and fun to use and my skin always feel very refreshed afterwards.  There are increasingly more of such products in the market but my preference is always for those that are completely natural.  For example, the two favorites that I use on a regular basis – Dead Sea Mud Mask from C'est Naturel and the Herbal Healing Clay Masque from Yours Essentially – are free from additional chemical or synthetic additives.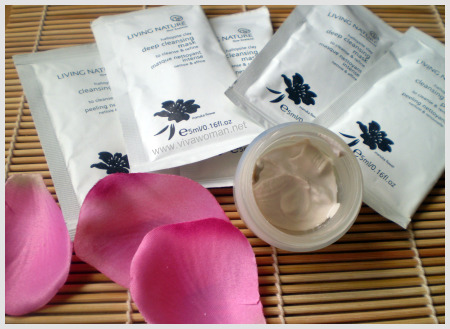 Masks with halloysite clay for deep cleansing
And last week, I received the Living Nature Deep Cleansing Mask and The Cleansing Clay Peel, both of which contain halloysite clay,  known for its ability to absorb toxins.  I have been pleased with the result of the clay peel as mentioned in my review of the Sheer Indulgence Facial at The World of Organic Skincare, and thought it might be something worth trying on a more frequent basis.
Need to hydrate skin properly after using such masks
However, it is important to note that because such mud and clay masks help to balance out the oil in our skin, you'll need to pay some attention to nourishing the skin immediately afterwards.  Mel Lin, the General Manager of The World of Organic Skincare informed me that because using such masks and clays can be drying for the skin, hence hydrating the skin is an important step after using such products.  It is definitely true because I felt my combination skin feeling quite tight after using these.
GSS promotion for Living Nature Deep Cleansing Mask
By the way, those of you in Singapore may like to know that the 5-pack Living Nature Deep Cleansing Mask is currently on offer at S$29.  Each pack should provide about three times of usage so you can use these for 15 weeks since you only need them once a week.  This offer is available at The World Of Organic Skincare at their Marina Square Boutique #02-187 or their showroom and clinic at 468 River Valley Road.  I'm not certain if you can get the special at Sephora though.
Comments