All natural silk-based skin care facial review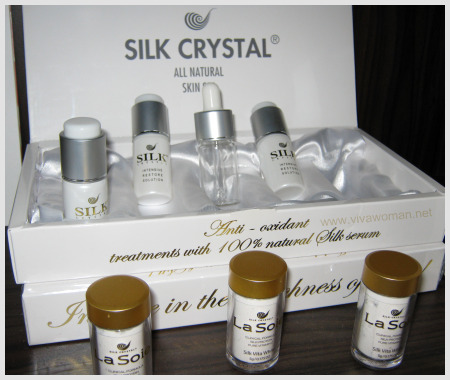 Last week, I had the chance to try out an all natural facial session at Divine Medspa that uses an interesting line of silk-based all natural skin care products developed by a Korean scientist.   I was curious about the products and wanted to find out why they were the choice for the Medspa.
Products use silk-nano gold complex
The products are sold under the La Soie label and are developed using a unique Silk-Nano Gold Complex by conjugating nano sized gold particles with silk protein which is highly compatible with skin cells and provides several benefits of both silk and gold. In addition, the products are made fresh without parabens, petroleum derivatives, silicones, chemically synthetic fragrances plus coloring agents and are developed according to European guidelines, having received the Natural Certificate from German Research Center. In fact, they were in the spotlight not too long ago and was featured in a Business Times article.
Extensive range with collagen-like benefits
The range is rather extensive; with products from anti-aging and whitening serums to acne care. And according to La Soie's creator, La Soie's products are based on silk's high anti-bacterial and antioxidant properties, which also has collagen-like benefits, making it an alternative to bovine-based collagen.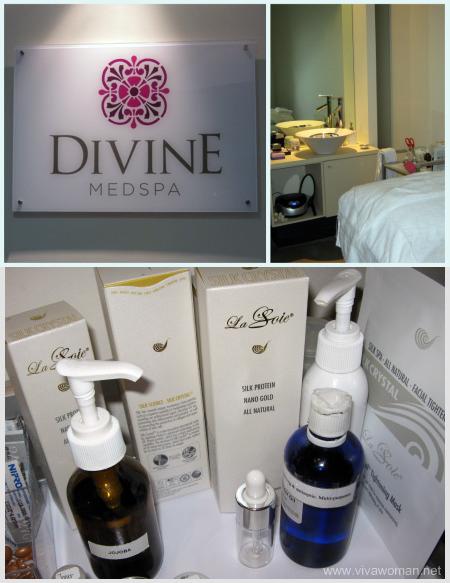 Products backed by solid research and reputation
Dr Christine Cheng, the Aesthetic Director of Divine Medspa told me that she had explored a number of natural botanical products and even a 100% certified organic product before deciding to use La Soie because of its solid research backing and reputation in various international markets. The grade that she uses is the highest with no chemical additives at all and that's why the shelf life of the products is only approximately six months. As to the issue of nano particles in skin care products being a health concern, Dr Cheng felt that moderation is key and consumers should avoid nano particles of known toxins rather than avoid nano particles totally.
Interesting use of cold steam during the facial
The products used on my skin during the facial were those for whitening and they included the silk serum and the silk mask. The facial was quite typical that involved steaming, extraction, brow trimming and a shoulder massage. However, what was interesting was that they used cold steam! I was told this is because the serum had helped to soften my skin and all that was needed was for the cold steam to add moisture so that it would be easier for the aesthetician to work on my skin.
Thorough analysis of skin condition
Wei Wei, the aesthetician who worked on my face, was very efficient and she took time to analyse my skin and even gave me some good advice on what to avoid, what to use and which problem areas to focus on. I realized that I've to cut down on the usage of clay masks even though I love them because my skin needs more moisture!
Prices of products are reasonable
It seems I'm the first one to try this silk-based all natural facial at Divine Medspa. I wouldn't say the results were astonishing but my skin definitely look whitened and it felt very supple, moisturized and well nourished even a day after the session. But I really like some of the products in the La Soie range. The silk serum is very interesting and their vitamin C powder and their sunscreen are also particularly promising. And based on my understanding, the prices also seem quite reasonable as the all natural sunscreen cost around S$105 and provides complete UVA and UVB protection. In fact, I learnt that the same products are available locally under private labels at a much higher mark up!
Products can be incorporated into medical-grade treatments
An all natural facial session at Divine Medspa cost S$200 and I also learnt that it is possible to incorporate this facial with some of the spa's medical-grade treatments which I've highlighted in an earlier preview for faster results. For more information, visit the Divine Medspa website. I'll also be discussing the vitamin C powder and sunscreen, two interesting products in the La Soie range in another post. So keep a lookout for them!
Comments