Divine MedSpa:medical-grade aesthetic + spa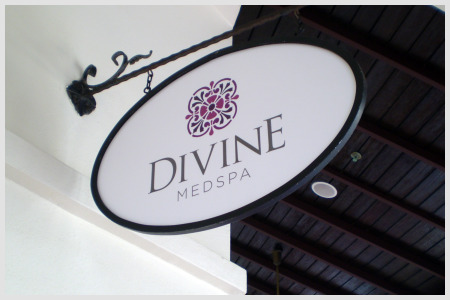 When it comes to seeking treatments to enhance your exterior beauty, where in the spectrum do you fit? Are you in pursuit of a holistic natural approach or are you into more invasive medical-grade aesthetic treatments?  Or perhaps you're somewhere in between? This interesting question came about from speaking to the professionals at the opening of Divine Medspa last Friday – the first facility in Singapore to incorporate medical-grade aesthetic technology with a comprehensive range of holistic practices and spa treats, even natural botanical skincare! 
Unique spa with integrated solutions for mind, body and soul
Divine MedSpa is set up by Aesthetic Director Dr Christine Cheng who also runs Simply Aesthetic, a clinic that specializes in medical beauty treatments.  Because of her immense interest in aesthetic medicine as well as interest to help her clients achieve holistic beauty, happiness and success, she decided to set up Divine MedSpa.   Having viewed the facility first hand, I can truly concur that Divine Medspa is a very unique spa facility in Singapore that provides an integrated solution for beauty and well-being.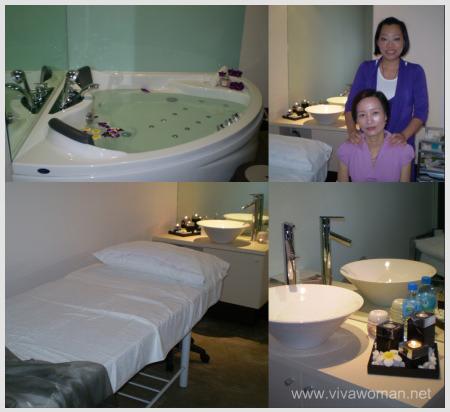 Full fledge of spa facilities with qualified staff at MedSpa
Spa treats and complementary energy healing modalities
The medical spa offers your typical spa treats like massages, body scrubs, body wraps, salt and milk bath rituals, detoxification, and even manicure and pedicure services.  Of the seven treatment rooms at the facility, there is even a couple suite with a double Jacuzzi bath, a yoga studio and a manicure-pedicure area.   What really took me by surprise was that Divine MedSpa is actually offering yoga, meditation, Aurasoma Colour Therapy, Jin Shin Jyutsu, Kinesiology, clinical hypnotherapy and life coaching too!  Definitely not what you'll find in your usual day spa!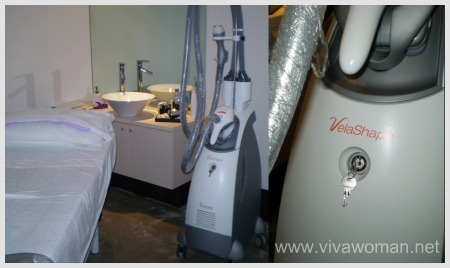 Non-surgical approach to slimming
Comprehensive weight management solutions
Those who are into weight management will be happy to find a range of weight management solution to meet their differing needs at Divine MedSpa.   These include targeted stubborn fat reduction, power muscle building or cellulite reduction, just to name a few.  An example of the aesthetic technology used in this area is Velashape, the machine you see in the picture above, which uses a combination of heat, light, suction and massage to improve skin texture, reduce the appearance of cellulite and target localized fat deposits. It's touted as the non-surgical alternative to liposuction!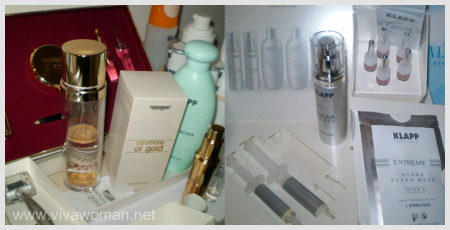 Products containing 24K gold and cavier
Wide array of facial treatments and products
As for the facials, customers are spoilt for choices as they can choose from products that include the healing properties of 24K gold infusion or a complete natural skin care line made with silk that Dr Cheng plans to bring in soon.  And those who are busy and who want immediate result can of course choose from Divine MedSpa's medical-grade treatments using state-of-the-art technology.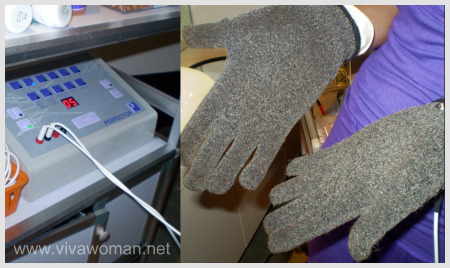 Instant face lifting with the Nano Perfector
Nano Perfector for instant face lifting
What you see in the picture above is the Nano Perfector for non-surgical face lifting to stimulate collagen production to produce instant face lifting within a short treatment time. I didn't try it at the opening but I saw some impressive results for those who did. Users reported no pain, no heat and no uncomfortable sensations as the aesthetician massaged their face gently with a pair of woollen gloves that is electronically attached to the Perfector.  It was like a normal facial massage but the results were instantaneous and glowing!
60-minute Mesosceutical facial for cellular rejuvenation
Besides the Nano Perfector, the other facial that was spotted at the opening was the Mesosceutical facial, which is said to provide the benefits of meso-rejuvenation without needles!   It incorporates the latest Cool Jet technology, which effortlessly sprays a potent cocktail of vitamins and antioxidants straight into the skin.  Through this, users enjoy deep cleansing, gentle peeling, plus product penetration and an increase in micro-circulation.   A unique gel mask that follows releases carbon dioxide into the dermis, further enhancing the microcirculation and triggering cellular rejuvenation.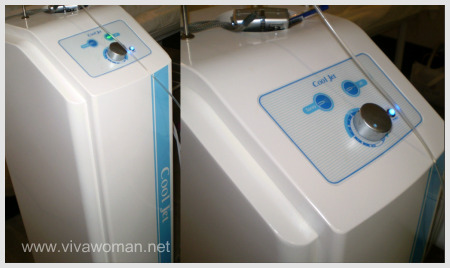 Cool Jet to infuse potent vitamins and antioxidants direct into skin
Special treat for Viva Woman readers
This treatment improves radiance, lifts, reduces fine lines and wrinkles and is particularly good for reducing puffy eyes and dark eye circles.  Each treatment last 60 minutes and the usual price is S$188.  And I'm happy that Dr Cheng has offered a special promo for my readers.  All local readers of Viva Woman can try this medical facial for just $120 the first time. This offer is valid till 15 July 2009 and you only need to mention the promo code VIVAWOMAN when making your appointment.
Location and contact details
Divine MedSpa is located at #02-15 Robertson Walk at 11 Unity Street. To book your appointment, call 6732 5578 or you can visit the Divine MedSpa website for more information.
Comments