Can tinted sunscreens replace foundations?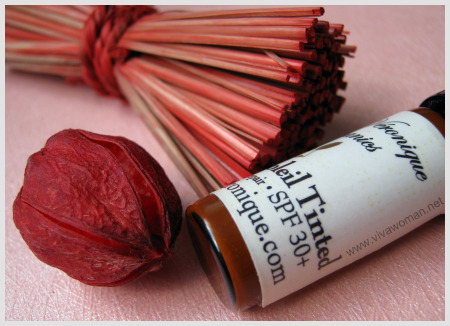 I've never tried a tinted sunscreen until recently when I tested the sample from Marie-Veronique Organics and I'm hooked! It worked so nicely as a makeup base in place of a liquid foundation, giving me an almost flawless finishing after applying my powder! Going forward, I'm definitely going to order the tinted version of this sunscreen as it only cost a dollar more.
Ingredients for Marie-Veronique Creme De Soleil Tinted
Marie Veronique Creme De Soleil Tinted SPF 30+ smells and feels exactly like the untinted version. Besides the 20% non-micronized zinc oxide, it contains the same ingredients – green tea*, neroli hydrosol, non-micronized zinc oxide, oils of apricot kernel, calendula-infused jojoba*, sunflower & meadow foam seed, Vitamin E, MVO botanical anti-oxidant glycerite, aloe vera gel*, potassium sorbate, red palm oil*, mica, pearl powder, allantoin, xantham gum, oils of emu, sea buckthorn*, red raspberry seed & acai, non-GMO lecithin, honeysuckle, essential oils of carrot seed, cistus, lavender & helichrysum, iron oxides (for tint). *ORGANIC
Iron oxide provides the tinted shade
The iron oxide is the ingredient that provides the tint and I remember now that the UV Natural Sunscreen I used also has this ingredient listed last.  The color was slightly beige and it sat rather nicely under my powder makeup too.  
Tinted sunscreen a good replacement for liquid foundation
As you can see from the picture, the Marie-Veronique tinted sunscreen at the top was thinner and darker than my usual liquid foundation at the bottom but I assure you that it was perfect when worn together with my mineral foundation.  So if you're tired of layering your skin with a moisturizer, a sunscreen and a foundation, you might want to consider using a tinted sunscreen or perhaps a tinted moisturizer that contains SPF if you're only getting casual sun exposure.  
Not advisable to mix your foundation and sunscreen
Some ladies I know mix their foundation with their sunscreen to achieve this.  However, this is not encouraged as when you mix anything with a sunscreen, you are likely changing the protective factor of the sunscreen.  Perhaps mixing with a mineral foundation might work better since it isn't liquid but personally, I'll rather go with a readily formulated tinted sunscreen than try the DIY approach since we can't be sure if the ingredients within the mineral foundation will be compatible with a sunscreen.
Comments