DIY Beauty: Kiwifruit exfoliating cleanser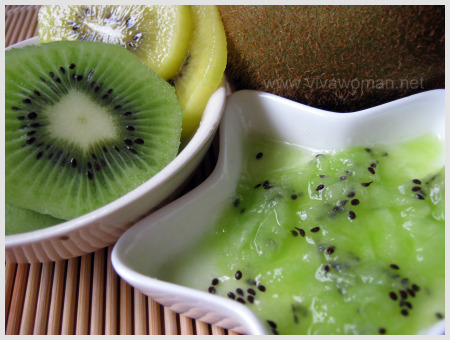 Lately, we've been consuming lots of kiwifruits. The supermarkets here are promoting them rather aggressively, on the basis that they contain lots of vitamins to help improve our immunity against swine flu. Well, indeed they are!
Full of vitamin goodness
Kiwifruits or kiwis are full of vitamins and minerals, making them highly nutritious. They contain an abundent level of vitamin C that is even higher than that of oranges, as well as excellent levels of vitamins E and A. Their mineral content is exceptional too. The presence of a high concentration of potassium means this fruit has great healing qualities.  One kiwi contains 40 micrograms of antioxidant beta-carontene and fat soluble vitamin E.  Plus it is rich in phytonutrients that protect our cells against radical damage.
Top 10 beauty food
So it's no wonder that Lisa Drayer of the book The Beauty Diet included kiwifruits as one of the top ten beauty foods because of its antioxidant properties as well as ability to stimulate collagen synthesis. She labelled the fruit as an all-round beauty food, which can help maintain strong bones and teeth to protecting against wrinkles and premature aging.
Good for cleansing
Apart from the antioxidant qualities, I found out that raw kiwifruits are particularly good to cleanse our skin because it contains an enzyme called actinidin, which works to dissolve protein based dead skin cells and dirt on the skin. This will help leave our skin fresh and clean.  And of course I had to try it for myself!
Using it as an exfoliating cleanser
It's quite easy really.  We eat both the green and golden kiwis but I decided to use the green one for cleansing purposes.  All I did was to use one of the slices and chop it up before mashing it into a pulp.   I didn't use it straight as a cleanser but rather more like an exfoliator by rubbing the pulp all over my face after washing my face.  The enzyme in the fruit may sting some sensitive skin but it did nothing for me, except my eyes when I used it over.  So this is something you want to be careful with. 
Skin feels flaky after washing
I didn't exfoliate too long, maybe two minutes before rinising off with warm water.  I didn't notice much difference to my skin but when I applied my toner, I noticed my skin was slightly flaky.  I'm quite sure I rinsed off the pulp well and those weren't residues from my towel either.  So perhaps the flaks were my dead skin cells?
More ways to use the kiwi
This exfoliating cleanser is rather easy to use.  Nothing too complicated.  But you may want to vary by adding kiwi to yogurt or honey as a face mask.  I might try that another time but personally, I'll probably use kiwi sparingly on my skin.  I think the fruit is better in my mouth!
Comments