Epicare threading tool review & a giveaway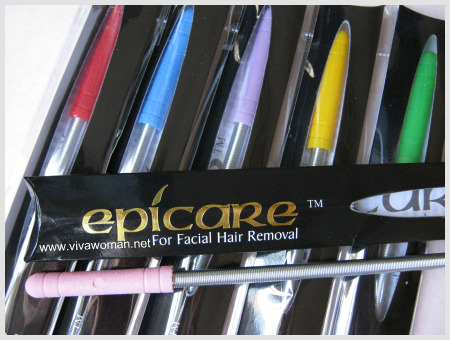 Has anyone ever had your face threaded before?  I've never tried that but I remember seeing one of my sister-in-laws having her face threaded by her mom when I was a little girl.  Some thirty years later,  a friend showed me her cleaner eyebrows, thanks to an eyebrow threading session.  I was pretty intrigued but I never tried since I didn't think I have an issue with facial hair to begin with.
Helps your makeup stay on better
For those who have never heard, facial threading is an ancient form of hair removal that is still practiced in Asia today.  It is supposed to remove the fine hair from the roots without hurting the skin and not only does it make your face hairless, apparently, makeup would stay on better after threading.  I was told there is pain the first time but one will get used to the sensation after that.  Well, I don't know about that but I suppose having unattractive facial hair removed is a liberating experience so a bit of pain is probably worth it.
Gadget to remove your facial hair
Well, today, I'm going to review an interesting product which can help you remove your facial hair, with results like the ancient practice of threading.   Those who have participated in the August VivaBella Giveaway would have read all about Epicare on their website and some of you maybe tempted to try it.  Is it really that easy to use?  Is it painless?  And is it worth the money?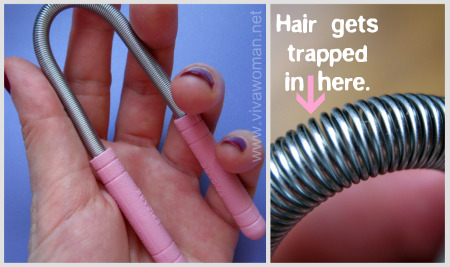 Easy instructions on the website
Actually, I didn't want to review this product because like I said, I don't have facial hair issues.  But Heidi of Epicare sent me a pink one anyway, along with those she kindly sponsored for the giveaways.   Since I had one in hand, I thought I'll give it a try as I do have some strands of fine hair above the left part of my lips.  I viewed the video demo and followed the instructions on the website:
– bended the spring into an inverted "U",
– place it against the area on the face where hair is found and
– rotate Epicare in an inward and outward motion.
Do not bend if your facial hair is too fine
And…nothing happened. The hair was still there! I tried it a few times and I gave up and promptly forgot all about it until yesterday. I decided to give it one last try and this time it worked! I realized that with fine facial hair, you can't bend the spring too much since they won't "get trapped". In fact, all I needed to do was to hold the spring in a straight position and rolled it right next to my skin back and forth and the hair were caught and pulled out! I felt a slight sensation on my skin, like an ant bite. I suppose the pain could be more intense if I had more facial hair.
Handy and safe to use
So this is really interesting! I think it's really handy for those who want to remove their excess facial hair as it's quite easy to use, although you might have to go through some trial and error the first time or so. However, please note that Epicare was designed for use on the upper lip, chin, cheeks, nose and neck areas and should not be used to remove hair from the eyebrows, as it will pull your eyelashes out! I think so because when I used it on my forehead near to my hairline, some of the hair on my head were caught in the process!  My face did not experience any redness after using this, probably because I have very little facial hair too but if you're using this tool, just remember to tone and moisturize your face after each use.
Prices and availability
Those in Singapore can purchase Epicare on their Singapore website at a promotional price of S$24.90 (about US$17). Heidi also ships to other parts of the world at no additional charge. There are seven colors available but two colors have already been sold out.
Three to be given to local Singapore readers
Okay, originally I was going to give away all the Epicare tools via VivaBella Giveaway but I've decided to give away 3 here to three of my local Singapore readers.  All you need to do is to leave me a comment with a valid email address telling me if you've an issue with facial hair and why you want to use Epicare.  Please note that each person is only entitled to one entry and the closing date for this is Sunday, 30 August 2009 at 12 noon.  I'll pick three winners based on the best three comments.
Have fun commenting!
Comments