Professional hair color without the bad smell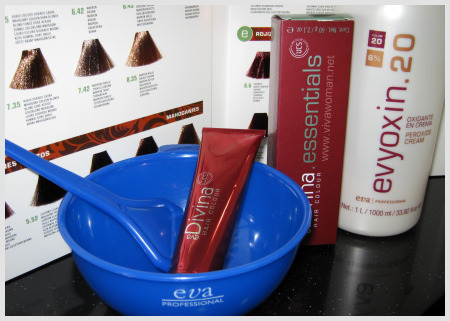 I was happy to learn that we are now getting more professional hair coloring options here in Singapore. Apart from the established brands like Wella and L'oreal, we now have newer brands like Eva Professional from Spain that offer lower ammonia content. For once, I didn't smell like cat's pee right after a coloring session. In fact, there was hardly a trace of the smell even when the colors were being applied on my hair!
Contains low ammonia level of only 6%
And it's no wonder because the ammonia level of the Divina range under Eva Professional hair coloring is only 6%. You'll definitely have to take a sniff of the product at close range to be able to smell it. I also learnt that the Divina range includes a patented technology which uses a soya based formula containing collagen proteins to provide both color intensity and optimal shine, unlike other brands which rely on chemical cells and molecules to provide the conditioning effects. As such, it enables cuticles to close faster, providing longer color durability. Those with sensitive scalp would also like this range because of its moisturizing capabilities.
Hair looking shiny and glossy
And this is how my hair looked, a few days after the coloring session. It was rather shiny, considering that I didn't even use any conditioner on my hair.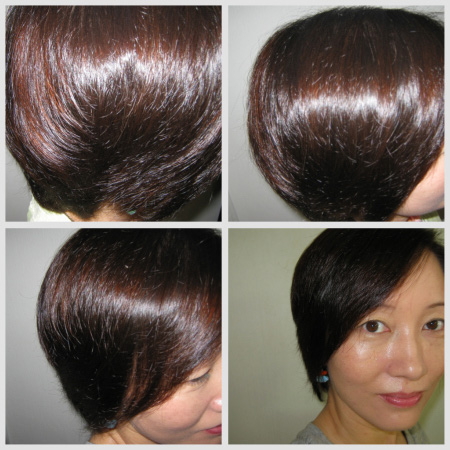 Natural looking hair color is in vogue
Although Divina under Eva Professional comes in 34 tones, I didn't have to crack my head on the selection as I was told that natural looking hair color is back in vogue – which means colors should be close to the unadulterated color. The Creative Director at Kelture, where I colored my hair, had recommended that I try a warm brown with a tinge of copper. And the end result was almost as if I didn't color my hair. It's not exciting I admit, but I know my hair stylist would be very pleased with this shade because he didn't like my last color which was lighter and more obvious.
Competitively priced
Anyway, the good thing about the Eva Professional coloring series is that it is priced as competitive as the other brands in the market. Hence, customers who want to choose a safer and natural option don't have to pay more! I know I would definitely opt for this range the next time.
Where to find Eva Professional hair coloring series
My hair coloring session was arranged by the good people at Altas Venture who is the distributor of Eva Professional.  Kelture, the salon that I went to, is located at #05-07 Paragon.  I learnt that there are a number of salons at the Orchard belt which carry the range now.  If you're keen to find out more details, check out details at their website.
Comments