True Bio Skin Care product review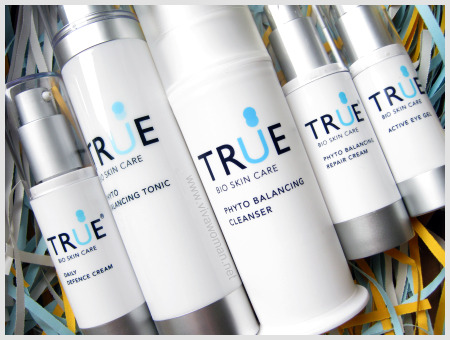 Heather posted a comment in one of my earlier entries asking me to do a post on my skin care regime. I actually planned to do a video post on that but in the meantime, I'll run a review on the major products I use on a daily basis.
Challenge to use products exclusively
As you all know, being a beauty blogger means that I tend to sample different product lines. In terms of skin care products, I really use a hotchpotch of brands and DIY stuff. And the worst part is, I like to switch products all the time. Apart from the Sukin Facial Cleanser that I've been using for a long time now, I don't have brand loyalty so to speak. So Susan of True Beauty issued me a challenge about three months ago when I last had my facial with her – to use her line of products exclusively and see how it works on my skin. I have already sampled some of Susan's products and loved some of them and so I said yes. And now after three months, I'm ready to say something about them.
High expectations in line with pricing of products
First off, please let me qualify that one of the criterias I use when reviewing a product is the price point. If it is expensive, I tend to expect more. Well, a lot more to be precise. So yes, I started using this line with very high expectations.
Combination and matured skin type
Susan's line of products are sold under True Bio Skin Care and the ones I am using are Phyto Balancing Cleanser, Phyto Balancing Tonic, Phyto Balancing Repair Cream, Daily Defence Cream and Active Eye Gel. I have combination, matured skin type. The areas on my cheeks are drier and sometimes feel very taut in the day. I have some enlarged pores on the wings of my face, near to the nose area, plus quite a bad case of skin pigmentation as well as occasional acne breakouts.
Improvement in overall complexion
Overall, I feel that the products under True Bio Skin Care even out my skin tone and my complexion is at least a shade lighter. My cheeks are not as dry as it was three months ago; at least I don't have that much of a tight feeling during the day now. In addition, my T-zone doesn't secrete that much oil in the day. However, I still have blackheads and whiteheads around my T-zone plus my pores are still the same size. In addition, I still have cheek acne although I think it's due to my diet rather than my skin care routine.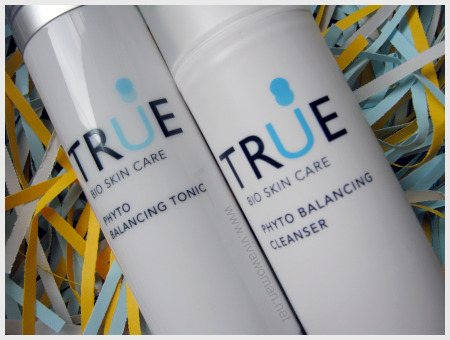 Skin oils are more balanced
My favorite products are the cleanser and the tonic, which I use twice a day.   I have a review of the Phyto Balancing Cleanser if you're interested to read it.  Susan had asked me to use the repair cream and the daily defence cream in the day but I found the combination gave me small skin bumps, even after two weeks. So I use both independently; the daily defence cream in the day and the repair cream in the night. I guess the repair cream helped to balance out my skin while the daily defence cream moisturized my skin in the day. However, I still used my sunscreen on top of the daily defence cream because the latter only offers partial protection against the UVA rays.
Less need for undereye concealer
The Active Eye Gel was the product I was pinning my hopes on, especially after reading the success of Yosita in using the gel to help her dark eye circles. However, because I was expecting so much from it, I was a tad disappointed in the end. I was hoping it would rid my dark eye circles and fine lines completely but it didn't. But the wonderful thing about the eye gel is that no matter how late I sleep, I noticed my dark eye circles didn't darkened. In fact, I don't feel a strong need to apply undereye concealer anymore unless I absolutely want to have brighter looking eyes.
Review from reader Anthea
I know there are a few readers who use the True Bio Skin Care products and so I asked Anthea to give her comments about them too. Anthea is currently using the following products from them together with Emu Oil:
– Phyto Balancing Cleanser
– Phyto Balancing Tonic
– Daily Defence Cream
– Cell Luminous Essence
– Skin Soothing Essence
– Active Eye Gel
Sensitive and eczema-proned skin type
According to Anthea, she used to have very sensitive and eczema-prone skin on my face and neck. On bad days it can be itchy, flaky and red. "I've suffered from this for years. My skin is now a lot better, no more eczema. I started only on the first 3 products for about 1.5 mths before adding the rest."
Improvements within three weeks of usage
Anthea also said: "I find that in general, their products absorb very quickly into the skin. There is no residual feeling on the skin after using it. And even though they are all liquid form and not cream based, the skin is also moisturised. Also, because my skin condition is quite poor, I can see the effects quite speedily. Within 2-3 weeks, there is generally an observable and maintained improvement which is something I've not gotten with any other products. This happened with my sensitive skin, open pores, pigmentation and eye bags. Only thing that has continued is the blackheads on my nose. I've stopped putting emu oil on my nose, hopefully that would help."  
Summary of my personal take
While I really like the fact that True Bio Skin Care uses only high quality natural botanical extracts free of chemical synthetics that are able to penetrate deep into the dermis in a matter of seconds to treat the root of the problem, but I definitely need some stronger active ingredients like vitamin C to help some of my skin issues. I guess I need some other specific products from the range to tackle my unique skin problems. In addition, I still think I need some sort of exfoliation on a weekly basis to help with my blackheads and whiteheads. So I'm guessing the overall results would probably have been better if I had continue with their facial treatments.
Price is considered mid range
Price-wise, the True Bio Skin Care range do seem expensive as a whole. But taken individually and if you were to consider that each can last between four to six months depending on how they're being used, I would say the price is mid range.
Try their facial service
So would I recommend True Bio Skin Care products?  I'm less inclined if you have fairly good skin to begin with but yes I would if you have specific skin conditions that have been bothering you and you have yet to find a suitable product. However, my recommendation is to get their sample sets to try first. In addition, I highly recommend going for their facial which I have reviewed here. The price for the basic facial is S$110 and you'll get 50% off currently or if you mention Viva Woman.
Comments