DIY Beauty: homemade hydrating face mask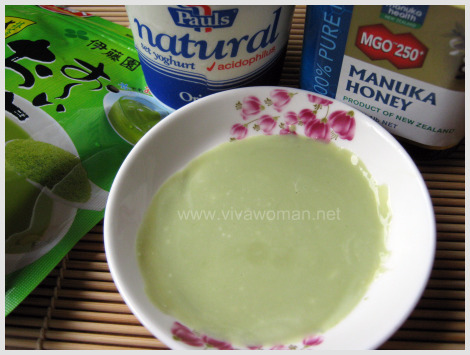 This week, I went back to using yogurt, after laying off this ingredient for quite a long while.  I love yogurt for the face, and I also had good results using the DIY yogurt oat mask recipe.  
Beauty benefits of yogurt for our skin
Yogurt is a great ingredient used in a number of the homemade beauty recipes because of its natural lactic acid and enzymes.  As I've written before, the beauty benefits of yogurt include soothing, softening and hydrating the skin, leaving it soft and smooth.  In addition, because yogurt has antibacterial and antifungal properties, it also provides excellent cleansing properties.  The best thing about yogurt is that it is so versatile and can be used alone or with any other ingredients.  Anyway, don't take the raves just from me; read the glowing reviews of using yogurt mask at Makeupalley. Eighty-seven reviewers gave the mask a 4.7 out of 5 rating!
The recipe and what goes into it
I personally like the 99.8% fat free natural set yogurt from Pauls.  I scooped a big teaspoon of the yogurt and mixed it with a teaspoon of matcha powdered green tea and a quarter teaspoon of manuka honey.  All I needed to do was to blend the mixture and then apply it as a mask on my thoroughly cleansed and dry face.  The mixture wasn't thick as you can see from the picture but it didn't drip so I can walk around in this for about 15 to 20 minutes before rinising it off with luke warm water. In fact, this mask can dry up pretty quickly on your face if you do not over apply.
Beauty benefits of green tea and manuka honey
Matcha powdered green tea mask by itself is  fabulous as I've written about before and offers wonderful antioxidant benefits.  But it works even better with yogurt and manuka honey.  Manuka honey by the way, is renowed for its anti-bacterial, anti-inflammatory and healing properties and makes a great cleanser or mask for our face too as it helps to hydrate our skin.    You can read more about this in my entry on benefits of manuka honey for our skin and how to use it for a DIY facial massage.
Skin feels more hydrated and supple
I like this recipe and will likely continue using it. It's definitely easier than having to grind my rolled oats and not as messy too! More importantly,  I get antioxidant benefits plus the yogurt and manuka honey definitely help to hydrate my skin better, leaving it softer and more supple.   However, just like most facial masks, the effects are transient and need to be sustained with continual usage.   The only drawback is the smell of the yogurt isn't at all delish!
Comments