Beauty Kitchen: Manuka honey candy for sugar fix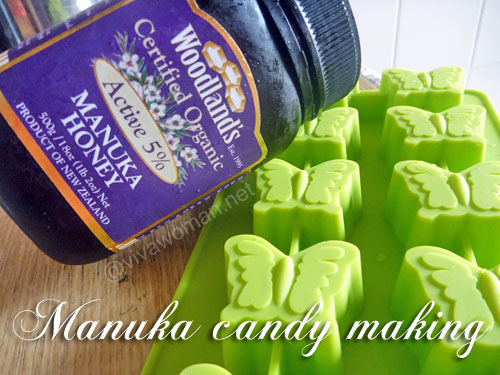 Hey ladies! Are you often hit by a craving for sugary food but also worried that snacking on chocolates, sweets and candies may ruin your figure or skin? Well, I've got a healthier homemade alternative that can help satisfy your craving and not cause you unnecessary beauty issues. In fact, this recipe is going to be very soothing to your throat and tummy and particularly great when the UV index gets really high! What am I talking about? It's the honey candy I had mentioned in one my earlier entries!
Getting an interesting shaped mold
I saw this green butterfly-shaped soft mold in a supermarket one day and decided to buy it despite not knowing what I was going to do with it. It's a soft, bendable mold that makes removing whatever you decide to put in it, a breeze. You could use it for making chocolates, jellies and even candies. I am not a fan of making jellies, partly because I don't particularly fancy them and I prefer to see the origins of my ingredients. So I decided to make little honey candies with it to replace pre-packed candies that are filled with artificial colourings, preservatives and stabilizers.
Honey benefits
I recommend using either organic Manuka honey, or Manuka honey that has at least UMF 10 and above. Manuka honey is known for its beneficial healing properties to ease a sore throat, an upset stomach, and even for the skin. If you are using Manuka honey with a minimum UMF of 10, it has even more active beneficial bacterial content in it, making it even more effective than regular Manuka honey.
A not-so-guilty snack but take in moderation
Even though Manuka honey is better for you and it is a better replacement for sugar, it is still honey after all. While these honey candies are a healthier option compared to snacks with refined sugar, it should be taken sparingly. This would be good for someone who is having a sore throat and would like to suck on something to soothe the throat, or even for someone who gets home from motion sickness due to sitting in a car for too long! I know this works for me whenever I get home feeling severe motion sickness from taking a long bumpy cab ride.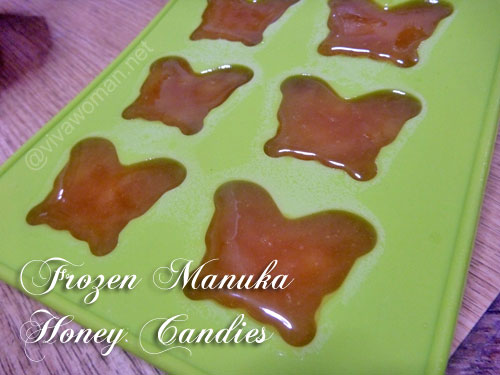 Ingredients
A mold for jelly, chocolates or even a normal ice mold will do. You can also get fanciful looking molds like this one I got!
Manuka honey of your choice
Drinking water that is in room temperature
A freezer
Steps to make your homemade honey candies
Get your Manuka honey of choice and put 6 tablespoons into a clean bowl.
Next get 3 tablespoons of drinking water at room temperature and mix it with the honey.
Mix the honey with the water evenly till you get a paste.
Now use a smaller spoon and put the paste of honey and water into each of the cute little mold.
Freeze it like how you would freeze ice. To be safe, do this a day before you need them.
A better alternative to sweet
I sometimes feel really snackish and get really tempted to buy a box of candies and munch on them while doing my work. So after trying out this honey candy recipe, I feel less guilty when popping one of these into my mouth because I know what ingredients are in it. Like I mentioned in a previous paragraph, while these candies are a better substitute than candies you find in stores, it should be eaten sparingly as it is still sweet after all. I also think this could be a better alternative as candies for young children. Do try this out and let me know how you like it!
Comments