DIY Beauty: mood lifting lavender tea foot soak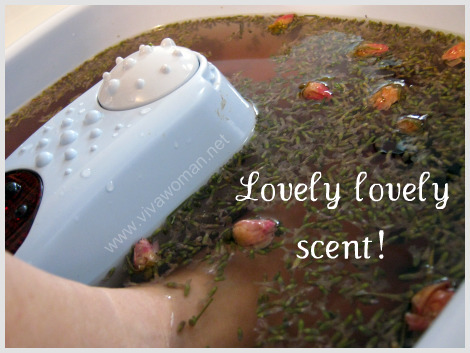 For those who like to pamper your feet, you can try some variations of DIY foot soak in the comfort of your home.  Earlier in the year, I shared an Epsom foot soak & scrub recipe and this time, I'm going to share another foot soak recipe using lavender tea leaves. 
Great for soothing tired feet and lifting spirits
This foot soak is fabulous in soothing tired feet and also lifting your spirits because of the lovely lavender scent.  In fact, if you're one who like to steam your face sometimes, you can first use the lavender tea leaves to make a homemade tea leaves facial steam and then recycle the contents for your foot soak.  Double the benefits!
Add Epsom salt for tired feet
There is nothing much in terms of the recipe except that you need to find a tub large enough to contain your feet.  Steep the lavender tea leaves in boiling hot water first and then add into your tub before mixing with some cool water prior to soaking your feet.  You may like to add some Epsom salt if your feet is very tired from long hours of standing or walking but otherwise, the lavender tea leaves foot soak is nice enough.  There is no need to add other essential oils if you put in enough tea leaves.
Options to use other tea leaves
Okay, using the tea leaves is somewhat extravagant but I don't do this often.  I don't like drinking lavender tea but I received the pot of tea leaves as a door gift.  Instead of letting it go to waste, I might as well just put it to some good use.   Besides lavender, you can add other types of tea leaves according to your fancy.  In fact, you can even keep a couple of tea bags which you've used to steep your cup of tea for this purpose.  There is also the option of using Chinese tea leaves.
Well, just get creative and have fun!
Comments