Why I chose a 1800 watts hair dryer?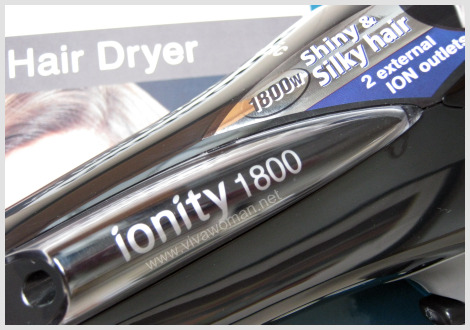 While it may not seem that apparent, but I'm very particular about my hair. While I may leave home without a trace of makeup, I would never leave home without first styling my hair. In fact, a hair dryer to me is very important and I always ensure I have a backup at home just in case, since I have to blow dry my hair on a daily basis. And not just any hair dryer will do the job for me.
Higher power causes less damage to hair
I'm very particular about the power and would only go for hair dryers using 1800 watts and above. I discovered, while scrutinizing how my hair was styled at the salon, that the higher the power, the stronger the wind for quick drying. This is important because firstly, it would allow my fine, thin hair to achieve better volume and secondly, the quick drying means my hair would not be damaged due to excessive exposure to heat on a frequent basis.
Ion hair dryer for gentle drying and ionic conditioning
So over the weekend, I finally purchased my new hair dryer – a Panasonic Ion Hair Dryer – that comes with two external ION outlets that effectively direct negative ions towards hair.  Actually I don't know what that means but in simpler terms, I think it means the outlets allow infusion of moisture to our hair and provides our hair with a silky, shiny feel.  It's more fanciful than my old Philips hair dryer as it comes with three heat settings and three speed settings. The heat, I noticed, is a lot cooler too. Although I quite like it but I think I miss my old dryer more. Unfortunately, that model is no longer available.
Frequent blow drying is not bad for hair
Blow drying your hair regularly is not bad. In fact, I wrote about this in my entry asking is blow drying bad for your hair?  You just need to do it right and use the right thermal styling tools.   If you go for a lousy hair dryer, your hair may turn out all frizzy and dry with repeated usage.   
Invest in a good hair dryer with professional power
So if you blow dry your hair daily like me, you might want to take some time to find a suitable hair dryer for your needs. There are lots of brands and models around and their prices vary with fanciful features for some. However, my experience tells me that it's better to invest in a hair dryer with higher watts of at least 1600 if you're particular about the way your hair is styled. Even for 1600 watts, some brands do not give you the desired power so you need to test and ask around.
Comments