Instant eye tuck for dark eye circles and bags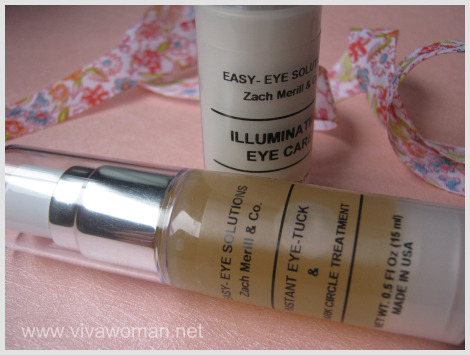 I recently came across this Instant Eye Tuck & Dark Circle Treatment plus Illuminating Eye Care from Easy-Eye Solutions and I just have to bring it up to the attention of those with severe dark undereye circles, eye bags or puffy eyes who have not found anything to work for them.
Please note that I've not tried this product and am not planning to as I don't have the need now.  Zach Merrill, the founder of the company had approached me about putting up a banner advertisement of his products on Viva Woman.  I got curious after going through his website and and that curiosity led me to find his products being rated 5 out of 5 by four users at Makeupalley.com.  However, it was the before and after pictures posted on Essential Day Spa – a forum that I often lurk for DIY skin care information – that swept me away and urged me to feature these interesting products based on the remarkable testimonials.  The pictures posted looked like the user had plastic surgery!
Suitable for both men and women
Apparently, Zach himself has had problems trying to get rid of his dark circles and undereye bags.  As he couldn't find a satisfactory product, he decided to create one himself.  The two products were launched in January this year, after extensive research and collaborating with a team of experts in the scientific and cosmetic industries.  The products, suitable for both men and women, are infused with collagen, horse chestnut and green tea extracts.   The ingredients are not all natural but Zach mentioned that he tried to keep it free of unnecessary chemicals as far as possible.
Natural, non flaky and can be worn under makeup
I have not tried such products before but from my understanding, most of them look flaky after awhile.  It seems, from the comments at the forums, that the products from Easy-Eye Sollutions aren't so.  Apparently, the Eye-Tuck Serum smoothes out fine lines and wrinkles, and effectively tucks those bothersome bags in a matter of minutes. In addition, while the surface tucking effect is instant, the product is said to have long-term effects as well. With continued use, the puffiness and crepey-looking skin does diminish, leaving a smoother, healthier and more youthful appearance.  In fact, the products can be used with makeup foundation.
Special promo for Viva Woman readers
The Instant Eye Tuck & Dark Circle Treatment costs US$74.50 while the Illuminating Eye Care costs US$29.95. Zach has kindly sponsored a set of his products for my October VivaBella Giveaway so keep a look out for it.  In addition, I've also requested for a 15% discount off the products and those who are interested can contact Zach via the contact form on the website to get a special Pay Pal invoice.  Just mentioned that you're a Viva Woman reader in the message.  Offer is valid till December 15, 2009.
Comments