Is it bad to wash our face in the shower?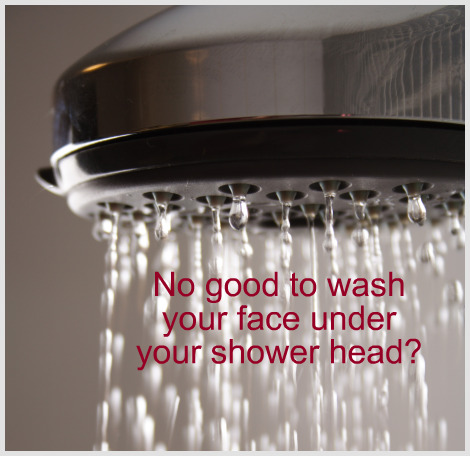 Here's something new that I just came across while browsing a forum last week – that washing our face in the shower is bad for our skin, given the water pressure and the toxins in the water itself. Is this true?
I think the water pressure makes sense and a strong pressure is particularly bad for those with sensitive or acne skin as that might cause the bacteria to spread. But if the water stream is gentle, I really don't see a problem. And I'm not sure if the water from the shower head is different from water from the tap. It's from the same source and whatever toxins will be the same isn't it?
So what do you all think?  I know some of you specifically wash your face only at the sink. Is there a specific reason?  Personally, I wash my face when I take my shower but my habit is to collect the water in my hands before splashing on my face. And usually, I end off with a cold splash of water at the sink. 
Well, there seems to be so much to learn about washing our face.  If you want to find out more facial cleansing tips, check out my previous post by clicking on the link.
© www.vivawoman.net copyright notice ☺
______________________________________________________________
Comments