10 beauty tips to optimize your shower time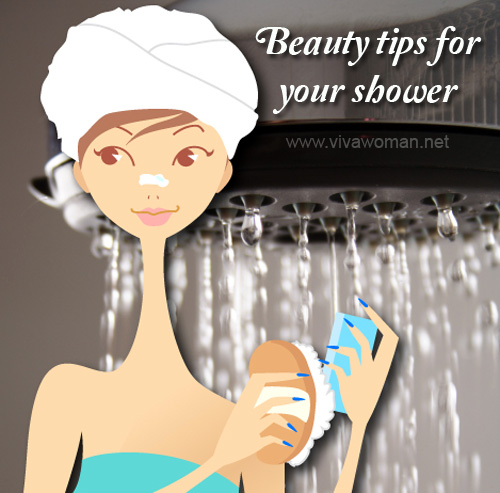 I don't know about others but I hated to shower as a kid. My mom would have to scream at me to get me bathing. Every. Single. Day. Of course I grew up and realized that personal hygiene is important if I wanted to expand my social circle and not have people pinch their nose when they speak to me. Slowly, I adjusted to the cruel fact that I need to shower twice a day to keep myself presentable and over these past few years, I took more pains to "perfect" my showering routine so that I can both optimize my time and beauty. So how do I optimize my shower time? Here are my 10 tips:
1. Temperature of the water
Not many of us are fond of bathing in cold water especially if you come from a country with cooler climate. However, hot water is not ideal for bathing for it dries out your skin. So the best is to shower in lukewarm water as it is comfortable, and it helps to remove sebum. You may like to consider ending off your shower with a final cool water rinse to refresh as well as to increase circulation throughout the body. Washing our face in cold water can help to make blood vessels constrict and may even aid to reduce swelling and appearance of undereye dark circles. And as a final rinse for our hair, it can help close the scales of the cuticle, and can help constrict the openings of the sebaceous glands to help moderate sebum production.
2. Keep your shower time short
Well, quick showers essentially save water but it will also help your skin. Depending on where you're located, the pH level of tap water differs but is usually around 7 while normal skin pH is said to be somewhat acidic and in the range of 4.2. to 5.6. Hence, excessive contact with water can dehydrate the skin and you also like to know that tap water has the tendency to strip away oils that seal in moisture.This is why our skin becomes wrinkly after contact with water for too long. It's best to keep your shower times under 15 minutes.
3. Shower from top to bottom
Although this is kind of common sense but I know some people wash their hair last during their showers. Shampooing your hair first will ensure you filter the dirt down your body and as you cleanse your body, you get rid of those sebum and oil to emerge really clean.
4. Wash your face after shampooing
Going by the sequence of showering from top to bottom, it make sense to wash your face after shampooing so that you don't get the dirt from your hair or the ingredients of your shampoo into your cleansed face. Believe me, but I didn't get this right from the start.
5. Check the water pressure on your face
Most of us shower under a shower head and in this case, it's best to avoid putting your face directly under the shower head as the water pressure can be detrimental to your skin in the long term. Either you adjust the water pressure to be more gentle or you collect the water in your hands before splashing on your face. Alternatively, wash your face at the sink.
6. Exfoliating and massaging during showering
This is something which I've found to be beneficial. Exfoliating is usually a natural extension of cleansing and by incorporating it into your shower, you basically save time. And if you do indulge in some sort of facial massage, try massaging your face while you're showering and washing your face. It's fast and easy as your cleanser can provide the necessary lubrication and you don't need to apply a separate cream or oil. Additionally, this should help those who find that facial massage give them breakouts.
7. Clear your blackheads after a warm shower
Since most of us shower in warm showers, the steam from the water will help to open up pores. So this is a good time to exfoliate away your blackheads or for some of us, gently squeezing the blackheads away.
8. Get rid of dead cuticle skin
For those who do their own manicure or pedicure, shower time is a good time to get rid of those dead cuticle skin and give them a push for the varnishing later. This is because your skin is much softer and you'll save time from having to soak your fingers or feet.
9. Moisturize immediately after
Our skin becomes drier after showering and so it's important to moisturize after a shower. Applying moisturizer over damp skin also helps to lock in the moisture.
10. Dry yourself before stepping out of your shower
There are probably a few people who step out of their showers all wet and dry themselves in the room. It's much better to pat yourself dry with your towel immediately after showering because leaving water to evaporate on your skin will make it drier. And try not to dry completely but leave your skin slightly damp for the moisturizing.
Do you like to shower?
I suppose others also optimize their shower time by shaving their legs or armpits but I don't do those. And instead of asking you what you do to optimize your shower, I'll just ask this – do you like to shower? I used to have a dog and I can perfectly understand why she hates shower time. (¬_¬)
Comments