Review: UV-b Safe Natural Sunblock SPF30+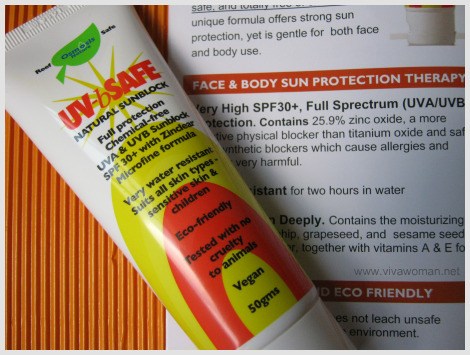 Over the weekend, I picked up this UV-b Safe Natural Sunblock SPF30+ with Zinclear Microfine formula from a mobile cart at VivoCity.  It caught my eye because it's stated as 100% natural and contains 25.9% zinc oxide.  I was told it's available at Living Pharmacy for S$30+ but I got this tube slightly cheaper at S$25.
UV-B Safe Natural is made in Australia
I was initially a little hesitant about the product because I've never heard of the company.  While I don't mind purchasing products from small companies, but I'm more picky about sunscreens and was worried if the product was properly formulated and tested.  Plus, I learnt that this is quite a new product so there are probably very few reviews available for reference.  However, my concerns were eased somewhat when I learnt that UV-bSafe Sunblock is made in Australia, a country widely known for having stringent requirements for sunscreens. 
Usually, I'll wait for a few weeks to test a sunscreen.  But this time, I'm able to review this quicker because I've decided to use this product for my body, mainly my neck, arms and hands rather than my face.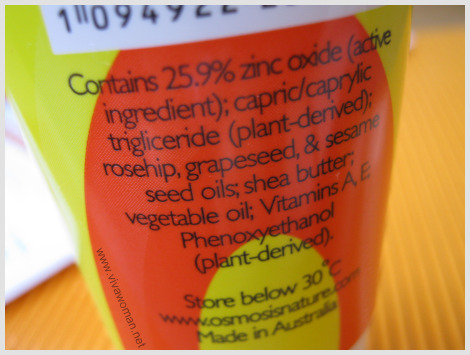 Concerns over high zinc oxide content
While I love sunscreens or sunblocks with zinc oxide, I'm leery of those containing more than 20% of that ingredient.  No matter what the experts say, zinc oxide in high concentration is drying for my face.  Such products are also slightly difficult to remove and would require more thorough cleansing and I've experienced breakout because of this reason.
Almost nil whitecast upon application
Anyway, I did try the UV-b Safe Natural Sunblock on my face for a day.  In terms of texture, it feels rather oily and this is likely due to the ingredients, which include rosehip, grapeseed, sesame seed, vegetable oils and shea butter.  However, when applied, it's not excessively greasy and is bearable, although I could only apply a rather thin layer which is definitely not enough.  I  needed to wear some foundation on top of this sunblock to cut the shine though.  I also don't see much of a whitecast because the zinc oxide is micronized.  It has a scent, from the combination of oils and I'm not sure if it'll appeal to everyone.  Personally, I found the smell okay.
Drying for my skin
But in the end, I decided not to continue using this sunblock on my face.  Why?  Because my cheeks felt extremely dry shortly after application and that's not a good sign; I usually breakout if my skin feels that way.   I'm not prepared to risk my skin for the testing and decided that it's probably best to use this sunblock on my body.  
Perfect as a sunblock for the body
On my arms and hands, this UV-b Safe Natural Sunblock was perfect.  It was greasy on application but after half an hour or so, the feel was more or less normal again.  In addition, I couldn't notice any whitecast so it's cosmetically appealing.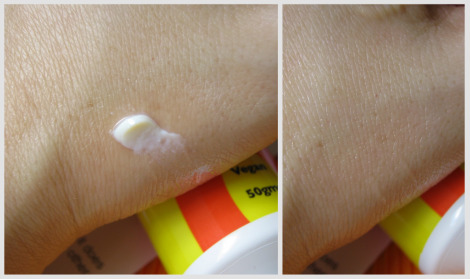 Overall summary
At the price of around S$30, this sunblock is affordable.  I'm also happy with the ingredients generally (please check if you have sensitive skin though as Phenoxyethanol has been said to be a potential irritation for some people) and would buy this sunblock again as a sunscreen for my body.  However, I'll keep it away from my face though.  I have combination skin with slightly drying cheeks and 25.9% zinc oxide is too much for me.  In addition, the combination of oils also don't appeal to me and I don't even dare to use this around my eyes.  But having said that, I want to give credit to a local company for bringing a natural sun product to the market for us. 
Availability
I understand that UV-b Safe Natural Sunblock is currently only available in Singapore and can be purchased from Living Pharmacy for S$32.  The company, Osmosis Nature, is based in Singapore, by the way.  Coincidentally, two readers – Guest and Freckles – also bought this product so if they can share their views, that would be great.
Comments