Tatcha aburatorigami Japanese blotting paper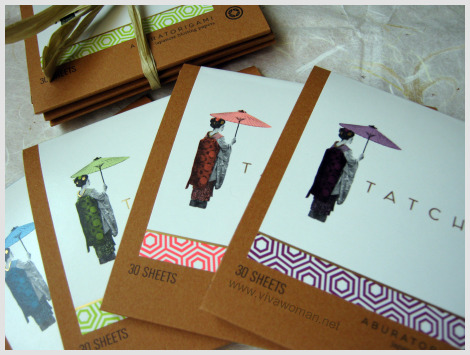 I have stopped using blotting paper for a long time.  The last ones I used were from Clean and Clear and now, I usually just use a tissue to pat off excess oil if I have to, in the middle of the day.  But when Vicky of Tatcha contacted me to ask me to test her Japanese made aburatorigami blotting papers, I just had to say yes.  Just look at how pretty they are! *right brain tingling* Vicky was very generous and sent me three packets of the aburatorigami papers to try.  You see a lot more in this picture and that's because I've requested more for you, my readers!  *wink*  
Thoughts on blotting paper
Anyway, some of you may remember me writing a piece about blotting papers sometime back and I did mention that I stopped buying them because I didn't think they helped control the oil on my face and a tissue paper did the same job for me.  I also highlighted that it may not be a good idea to blot excessively.  Well, I wanted to try Tatcha aburatorigami blotting papers because I was told I only need to use one sheet per day.  In addition, unlike tissue paper, this won't blot off my makeup.
History of blotting paper
But what really intrigued me and spurred my renewed interest in blotting papers is the history of it.  Gosh, I never knew that blotting papers are a 300-year-old beauty secret of the geishas!  Somehow, it seems that geishas found this precious by product of the artisan's alchemy to remove excess oil from their skin – special, soft and absorbent handmade papers to protect the precious metal the artisans hammered into whisper-thin leafing to enrobe the majestic pavilions of Imperial Japan. I just took it for granted that someone clever invented these papers.  (Yes, such nonchalance!)  Now that I know more about the history and that this is a beauty secret, my right brain feels more intrigued to use them! 
Helps makeup stay longer
In fact, from online resources I found, "abura-tori-gami" means "oil-blotting-paper." And as the words imply, it absorbs grease and takes the shine from your face. If you use it before touching up your makeup, it helps the makeup stay on much longer. Aburatorigami also works well to keep the balance of water and oil in your skin and prevents skin trouble such as pimples. (source: Learning About Kyoto)
Popularity of aburatorigami in Japan
According to Weekly Japan Update, the popularity of aburatorigami is perhaps a sign that the ancient predilection for maintaining clean, clear and glowing skin is still well and truly alive today…So, aburatorigami is a Japanese female's secret weapon in her battle – if a battle is necessary – to make her skin look beautiful.  Interesting?  I think so!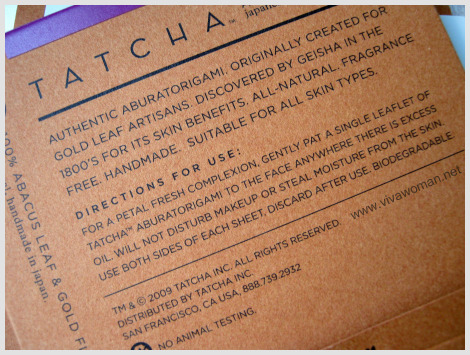 All handmade and natural
What's unique about Tatcha's Aburatorigami Blotting Papers are that they are actually still handmade by original artisans of aburatorigami. Hence, these Tatcha blotters are made with the finest grade of abacus leaf, prized for strength, absorbency and softness. There is no pulp to dry and irritate skin, or remove makeup and the blotting papers retain the gold flakes on them for authenticity.  They're also safe to use for all skin types because they're all natural, fragrant free and contain no talc or powder.
Larger than the usual blotting papers
Tatcha Aburatorigami Blotting Papers are also said to help create the perfect canvas for your makeup as a single leaflet is able to prime your skin without drying it out. The size of these aburatorigami blotting papers are larger than usual – about 3.75 inches square and that's why one piece is sufficent for the entire face. In addition, both sides can be used.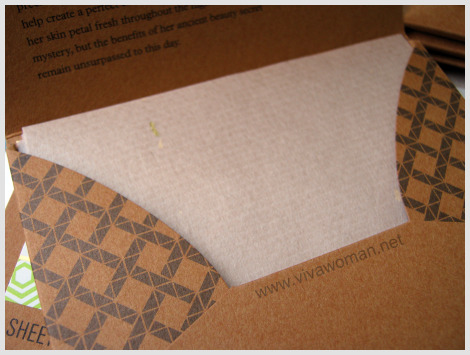 Helped my makeup look matt and nicer
I've been using these last week and it's true that I only needed one sheet per day.  Anyway, my t-zone is no longer very oily these days and so I can even do without blotting.  However, I found that these aburatorigami helped my makeup look more matt and nicer looking.  They're extremely thin and soft to use and served me well.  But I did wonder if someone with very oily skin needed to use more than a sheet or blot more frequently.  And nah, the gold flakes never got stuck on my skin, in case you're wondering.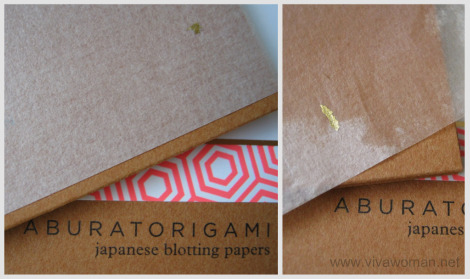 Costlier than the usual
Because of the quality of these aburatorigami, they are costlier than the usual blotting papers at US$12 per pack for 30 sheets or US$10 per pack if you buy them in a pack of three.  I doubt I would have gotten them because of the price but now that I've tried them, I would gladly receive them!  They're not a beauty essential for me but they're definitely nice to have.  The quality is defintiely better than those I've ever used before and they make very great gifts.  Plus, they're such nice eye candies to whip out of the bag!
Availability
Okay, the sad news is that Tatcha only ships within US at the moment.  So those outside of US can only ogle, or make special arrangements to get these.  But, as I mentioned, Vicky has kindly sent me more so I'm going to spread the love soon.  Yes, be patient and some of you will be rewarded.
Comments