DIY Beauty: strawberry mask for acne-prone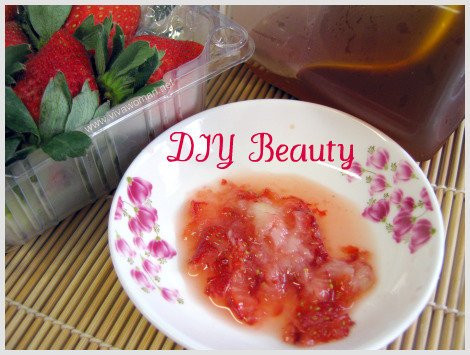 For the longest time, I had no success trying to use strawberries as a mask. The reason is, every time I want to mash up the strawberries, I end up popping them into my mouth. The furthest I've gone with using strawberries is to dab some of juice on my acne, but since I don't use it consistently, I can't say it gave me results.
However, strawberries are rich in salicylic acid, which is the same key ingredient in many commercial acne products. Hence, it is recommended for those with acne-proned skin.
Use on its own
It's easy to use strawberries. Just mash up a few with a fork if you're using it for your entire face. Make sure it isn't too watery but I'll say the juice is great for exfoliating purposes so don't throw it out. You can dab the juice around your face and after your face is dry, apply the mask on your face.
Use with honey
Strawberries are good when used alone but even better when mixed with honey for easy application. Honey has good anti-inflammatory properties so it's particularly great for acne-proned skin as well.  However, make sure your honey is suitable for topical application or it might be a problem for those with sensitive skin.
Strawberry honey mask recipe
You can add three mashed strawberries with two teaspoons of honey. Blend them well together, apply on your face and let sit for 20 minutes. Rinse with warm water, pat dry and tone and moisturize as per normal.
Use twice a week over a month or two for results
I can't vouch for the effectiveness but I've read of girls with acne using this twice a week for a month or two with good results. So if you can resist popping that strawberry into your mouth and you want to try something natural to get rid of your acne, you might want to attempt this homemade strawberry mask.
Comments