Herbal womb care for beauty inside out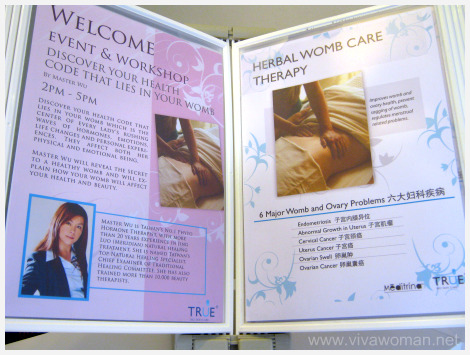 Earlier this week, I received a complimentary session of herbal womb care therapy massage at True Beauty.  As some of you know, I enjoy their natural facial services as I do see immediate visible difference after each session.  And I later found out that besides the efficacy of their products, the key reason why their facials are able to deliver effective results is because Susan uses a combination of massage techniques involving lymphatic drainage and activating the meridian energy points to promote blood circulation and remove toxins from within the skin.
Meridian energy test to determine state of health
Her latest herbal womb care therapy massage also employs massage techniques to activate the meridian energy points and keep the womb healthy.   I'm not sure about the state of my womb.  My guess is, it isn't exactly fantastic since I gave birth six years ago but I also hadn't actually thought I needed such a therapy.  However, my skin suddenly broke out badly this week and Susan suggested that it could be due to a hormonal imbalance.  Anyway, to determine this, she conducted a meridian energy test complete with a detailed computerized analysis on me to determine my state of health.   The results didn't figure very well and some of the analysis were pretty spot on too.  It appears that I have some internal blockages that needed to be cleared and a herbal womb therapy massage might work for me.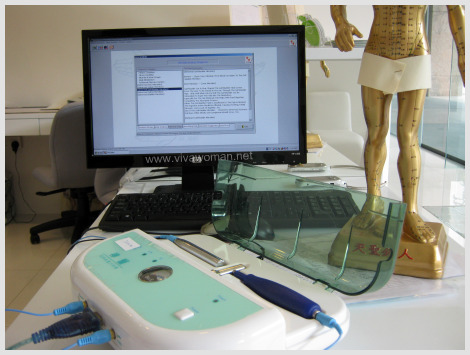 Some pain felt at areas of blockage
For the massage, I had to strip down to the disposable undies given to me because the massage utilizes a herbal cream.  The session lasted an hour where the therapist did a deep tissue massage on my tummy area while explaining the process as well as my problem areas.  It was pretty relaxing but at areas where I had blockages, I did feel some pain.
Herbal cream used to balance hormone production
Meditrina Ageless Herbal Cream was used in the massage to alleviate hormone imbalance symptoms. This product contains chasteberry, fenugreek, wild yam root and grapeseed extracts, and said to be clinically proven to mimic the positive effects of our hormones on our body and skin. Besides being used on my tummy, the cream was also rubbed on the sides of my breasts and my inner arms to enhance absorption as it is supposed to work internally to balance the progesterone, estrogen and prolactin hormone production. I ran a search on the Net and found that this formulation is used to help treat irregularities of the menstrual cycles, premenstrual complaints, and menopausal disorders.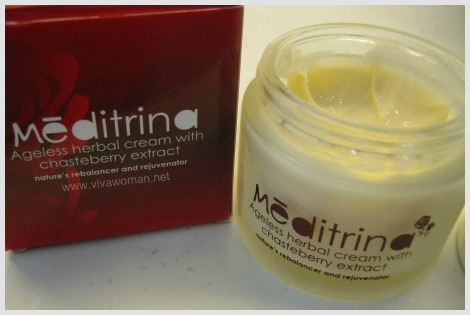 Experienced menstruation right after therapy
I was told that I might experience some discomfort after the therapy and right after I got home, the first thing I noticed were stains on my panties.  In fact, I started menstruating again the next day even though I had just completed my cycle about a week ago.  I also felt the usual PMS cramps. While I was surprised,  I wasn't alarmed as my cycle this month wasn't of the usual volume and I believe the massage had cleared some blockages in my womb and pushed out whatever was stuck within.
Blockages are unhealthy
I actually felt quite good about this because I understand that blockages in the womb isn't a good thing as it can possibly lead to fibroids or more complications later.  Hence, I'll most probably continue with this treatment and hope it'll help to balance my hormones and also improve my skin condition.  I also got hopeful after I met another customer at True Beauty who told me her skin condition improved after she underwent two sessions of the herbal womb care therapy massage!
Cost and suitability
The herbal womb care therapy massage cost S$168 each session but I was told that existing customers at True Beauty enjoy a lower price. You may also purchase the cream separately for home use if you like and the cost is around S$170+ if I recall correctly. Interested parties can call True Beauty at 6836 5775 to find out more. Such a therapy is not only for those who are only thinking of conceiving and wants to improve the health of their womb; this therapy would also suit those who have some form of internal imbalance or intestinal obstructions and are keen to improve their health and beauty from inside out.  But if you have reservations regarding TCM practices or are not uncomfortable with a womb massage, then this is definitely not suitable for you.
Comments