Holistic healing Gua Sha face therapy at Geranium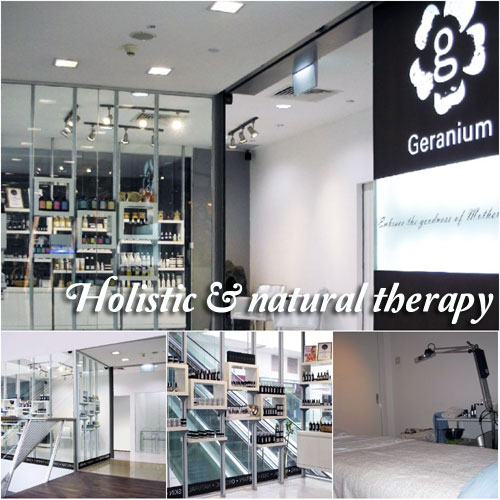 I came to know Grace of Geranium when she was still operating out of a mobile cart at Suntec City. She was also the one who got me interested in the use of essential oils. At that time, I've already learnt that she was providing facial service out of her home and hence, it came as no surprise when I later found out that she has set up shop at The Central. What surprised me though is that her holistic healing face therapy is based on Gua Sha, an ancient Chinese therapy that involves scraping the skin to promote blood circulation and removing toxic. I've never really had my face fully Gua Sha-ed, and so I was gamed for a trial when Grace invited me to a complimentary session.
The venue
Geranium is conveniently located on the 4th level of The Central (moved to 26 Horne Road, BH Building #01-01). It's a simple, pristine looking setup with minimalist design and one could have easily mistook it for a retail store. Besides essential oils, Geranium also carries the range from Henry Tianus, Dr Hauschka, 100% Pure and Breathe. The two treatment rooms were well hidden from the public eye by the design even though it's just right in front of the store. In fact, I almost forgot I was there for a facial when I was busy taken pictures of the setup.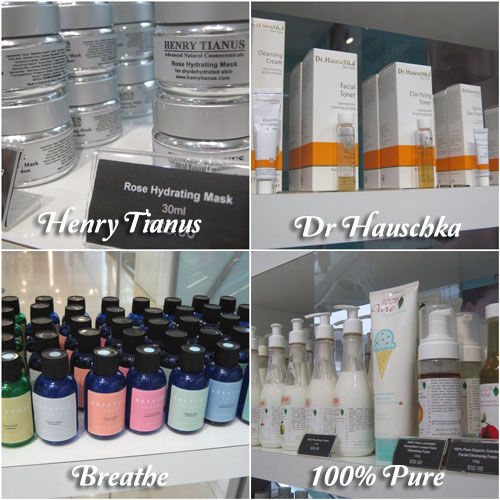 The treatment cabin
Each treatment room is of a comfortable size and it didn't feel cramped or cluttered. Like the shop front, the room is also simply designed and has a cupboard to store customer's belonging. Very importantly, they have a basin and a mirror for the customer to touch up after the session.
The treatment process
I didn't find out how long the entire Gua Sha Face therapy would take but was surprised to find myself being told to lie face down for a 10-minute back relaxation massage first. I think this must be the the first facial therapy I've done with a back massage as a first treatment, rather than in the middle or the last part of the therapy. In any case, I was more than happy as I was suffering from a severe backache then and needed some quick relief. But I wasn't expecting too much from the back massage as I thought it would be rather normal. Boy, I was wrong! The back massage, which comes complimentary with the face therapy is truly divine for me. The therapist had strong hands and so if you're the sort who like strong massages, you'll love this part of the treatment. And it's not just a hand massage as they incorporated a herbal heat treatment, which I thought really soothed my aches and helped relieve most of the tensions on my back. I actually felt it was longer than the 10 minutes stated!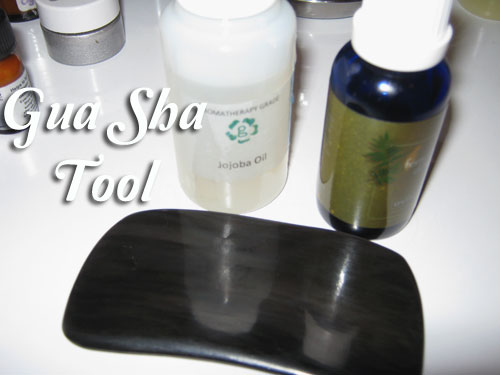 The facial
After the back massage, the therapist cleansed my face and began the facial therapy. Included in the session was a microdermabrasion treatment, which I found to be rather gentle as it was not using a scrub. In fact, I thought it felt like a lifting suction to me but I noticed that my skin tone looked better after the treatment. On top of a treatment mask, I also received a complimentary Aqua Eye Treatment in the package. Most of the products used were from Henry Tianus, except for the massage oil used during the Gua Sha. That was a house blend using Jojoba oil and Lavender essential oil for me. As for the Gua Sha, it was not painful in case some of you are wondering if it's so. But that's because I've got a mini Gua Sha tool at home and I sometimes use it on my face. So I already knew how it felt like to have my face scrapped. First timers may need to understand that it's slightly uncomfortable at the beginning as it's not the same as finger massage, although it isn't painful at all.
The therapist
I forgot to find out the name of the therapist but she appeared very well trained and had deft fingers. She spoke in Mandarin to me but I was told she can speak English too. The thing I found very comfortable is that she spoke only when necessary or when asked. I thought it might be because I was reviewing the treatment process but I found out from Grace later that that's how she has trained her staff to be – speak less and do more. She also does not encourage her staff to hardsell the packages or products to the customers as she would like her customers to have an enjoyable therapy and not be stressed out thinking about how to fend off irksome sales tactics.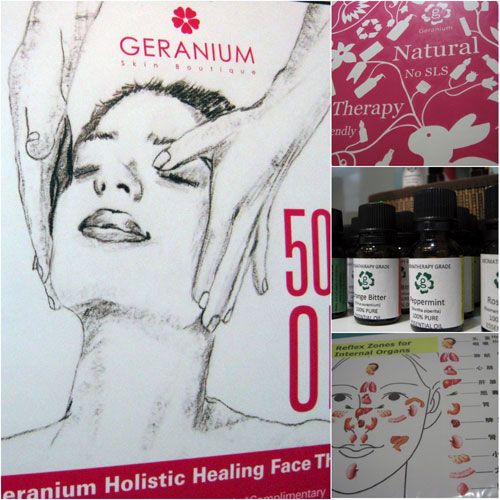 The results
It was only after the entire treatment was over that I realized that this is a 2-hour therapy. Besides the 10-minutes back massage in the initial stage, there were also some neck and upper chest massage during the treatment. So the time was very well spent. And how did my face look afterwards? Well, it was a little red from the Gua Sha scrapping. So you have to be mentally prepared for that. However, the redness will subside after some time. I noticed that my undereye area looked less puffy but other than that, I can't see that much difference for my face. It could be because I don't have very saggy skin to begin with and so the lifting effects were less evident for me. However, my back benefited tremendously as it no longer felt heavy and tight.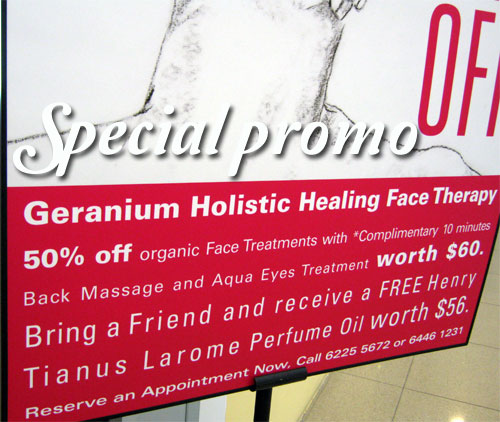 Special promotion at S$64 for a 2-hour facial
First time customers to Geranium can enjoy the 2-hour Gua Sha Face Therapy at S$64. The original price of the treatment is S$128. As part of the promotion, you will get a complimentary Aqua Eye Treatment and a 10-minute relaxation massage worth S$60. I actually find the price very worthwhile and Grace told me that customers can continue to enjoy the holistic healing face therapy at S$64 if they sign on for a 6-time package, which means they'll pay S$384 one time to enjoy the facial six times. Not a bad deal if you ask me! And I can say with some certainty that Geranium will not engage in hardsell so if you're looking for facial therapy based on natural therapy, this is definitely something to consider.
Gua Sha face therapy is suitable for sensitive skin too
Those with sensitive skin might be happy to know that Gua Sha is suitable for your skin type. I understand that many of Geranium's existing customers actually have sensitive skin. In fact, Grace remarked that more of more people here are reporting to have sensitive skin and I wonder why. But if you do head to Geranium, do remember to ask to look at the chart that shows our reflex zones for internal organs. You'll definitely find it interesting and informative.
Geranium is located at 26 Horne Road, BH Building #01-01, opposite ICA Building and you can call them at 6294 2581 / 6446 1231 or check them out at their Facebook page.
Comments