Is oil better than a moisturizing lotion?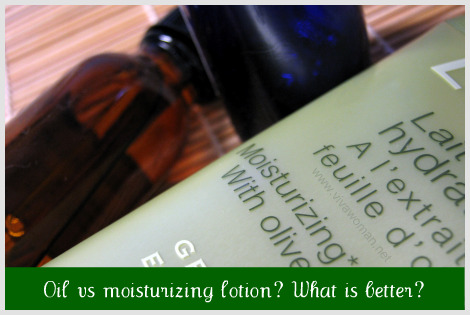 Awhile ago, a reader left a comment in one of my earlier entries asking why is it necessary to moisturize after applying oil to her face since oil can act as a moisturizer on our skin. And her question led me to wonder if applying oil directly on our skin is better than using a moisturizing lotion that already contains oil. The thing is, I was using oil with some levels of success but recently, I've gone back to using a moisturizing lotion instead.
Difference between oil and a moisturizing lotion
First off, based on my understanding, one of the main differences between oil and a moisturizing lotion containing oil is water and maybe heat. For a moisturizing lotion to emulsify, you need to add water to the formulation and heat it up to a high temperature. In doing so, the nutrients that are available in the oil within that formulation maybe destroyed. However, if you're using a carrier oil neat on your skin, you do not need to add any water. So on a simple level, it looks like oil is more superior than a moisturizing lotion.  However, I'll like to add that the oil used should be cold pressed, which means it has been extracted using heat of low temperature and does not contain chemical solvents.
High grade moisturizing lotion are well formulated
However, it depends on the formulation of the moisturizing lotion and a high grade formula may actually be beneficial because it usually has a combination of other oils as well as antioxidant ingredients. Furthermore, technology can make it possible for the moisturizing lotion to be formulated without its ingredients losing their nutrients and yet, be able to penetrate deeply into our skin.
Mixing different oils to get total benefits
My experience with using carrier oils like grapeseed, seabuckthorn, emu and jojoba is that whilst they're wonderful ingredients and do moisturize our skin well, they only do as much as what each can deliver when used individually. A high grade moisturizing lotion on the other hand, can contain multiple active ingredients including various oil extracts beneficial to our skin. So unless you're mixing various oils to enjoy the numerous antioxidant effects, a well formulated moisturizing lotion is a good option to consider.
Moisturizer should be able to penetrate and deliver benefits
Of course the next question is, what is considered to be a well formulated moisturizer.  To me, such a product should contain some good antioxidants and the formulation should be made such that it can deliver those benefits to our skin – preferably without being greasy.  It is plain useless to me if the moisturizer merely sits on top of my skin or moisturize the upper layers.  In that case, I'll rather use oil because based on past usage, most of them can penetrate and deliver goodies to my skin.  The only gripe is some of them are too oily for my liking and I don't like to use them daily.
Well, these are my views on the topic and I'll be happy to hear what others have to say.  Some of you have also been formulating moisturizers on your own so you might also have a different perspective to share too.
© www.vivawoman.net copyright notice ☺
______________________________________________________________
Comments