Star Sapphire Bracelet from JewelrySpice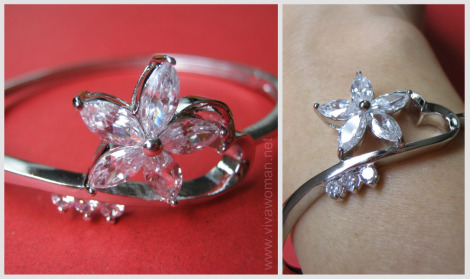 My blogging buddy, Leon, not only has an eye on beautiful things, but is also very enterprising.  Put the two strengths together and we now have JewelrySpice, an online store that provides chic and elegant fashion jewelry!  And one of the first things she did was to ask me to pick an item from her store for myself! 
White sapphire for the sparkle
Because I have a penchant for bracelets, I decided to pick one where I can put on to complement formal wear.  Now, I do not own diamond jewelry or for that matter, purchase diamonds.  Although said to be a girl's best friend, they're apparently not for me, according to a fortune teller.   So the next best thing to get some sparkles is to choose white cut sapphires!
18K white gold plated design
This Star Sapphire Bracelet is plated with 18K white gold and accented with marquise cut CZ white sapphire.  It's very light and putting on is very easy as I don't need someone to help me like I do with some other bracelets.  I haven't worn it out as yet but I imagine it'll go brillantly with any black outfits.
Selection of gemstones
Besides the Star Sapphire Bracelet, there are also other designs which include gemstones like garnet and amethyst.  You can also find lovely pendants, earrings, rings and jewelry sets of 18K gold plated designs, elegant sterling silver, and cubic zirconia at JewelrySpice.  Plus, Leon also plans to introduced handmade Egyptian jewelry in her store soon!
Prices and international shipping
Prices at JewelrySpice starts from US$27 and international shipping is available at only US$6!  If your purchase is above US$99, you'll get free shipping plus a surprise gift with any order above $150.
Win the 5-Color Dangle Earrings 
So go check out JewelrySpice if you like sweet jewelry with elegant designs.  In fact, you may also score one for yourself by participating in the Viva Woman October VivaBella Giveaway because Leon has generously sponsored a pair of 5-Color Dangle Earrings.
Comments