Glow with Amask Gold And Stem Cells Facial Mask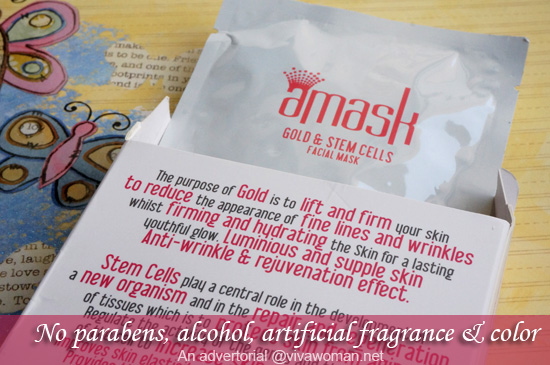 Despite being a skin care junkie, I don't use too many facial sheet masks because I'd found the whole application rather time consuming. But increasingly, I am more open to trying them again, because they're truly convenient when it comes to giving my skin a quick hydration boost. Unfortunately, I haven't come across an all-natural facial sheet mask but I'm good when they are made without parabens, alcohol, silicones, fragrance and artificial color—like the Amask Gold & Stem Cells Facial Mask, an anti-aging product formulated with gold, Swiss apple stem cells and Ecocert certified herbal extracts.
Visible improvements after two uses
Launched by SL Secret Beauty and developed in a HACCP and HALAL certified manufacturing facility in Malaysia, Amask Gold & Stem Cells Facial Mask aims to hydrate, firm and whiten our skin. According to a test on 64 users, both male and female aged 25 to 50 years old, 98 percent of the users found visible improvements after just two consecutive uses of the mask.
To validate the claims, I also took the facial mask to task and used them continuously for two days. But before I share about the performance of the facial mask on my skin, I want to discuss a little more about the two key ingredients found in the formulation.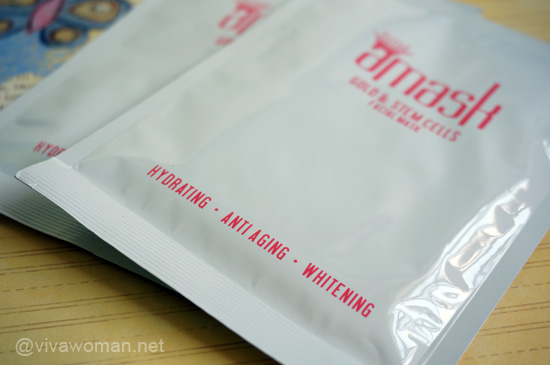 Gold for firming and lifting
So gold is not just solid for investment, it is beneficial in skin care for anti-aging purposes. I understand that gold activates the electrons in our cells to stimulate cellular growth of the deepest layer of the skin, resulting in tighter and firmer skin. In addition, it locks in moisture and keeps skin firm by maintaining collagen and inhibiting the breakdown of elastin. Not only that, as an antioxidant with anti-inflammatory properties, gold reduces the appearance of sun damage and age spots.
So all in, gold is a great ingredient to firm and lift our skin for a lasting youthful glow. No wonder Cleopatra used a lot of it in her beauty routines to enhance the suppleness and luminosity of her complexion.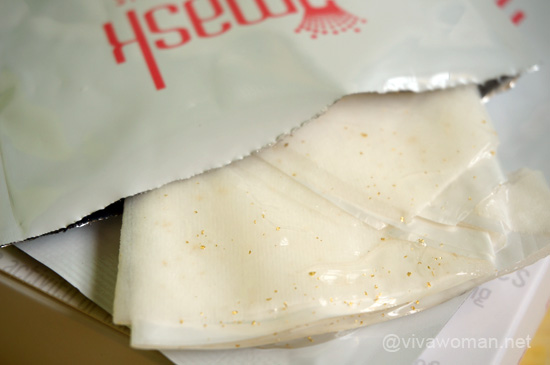 Swiss apple stem cells for repair and rejuvenation
Swiss apple stem cells on the other hand, is great for increasing skin stem cell vitality and longevity. It plays a central role in the repair and regeneration of tissues to protect the skin from aging. By stimulating aging skin stem cells, this plant extract has been shown to lessen the appearance of unsightly wrinkles. And because of an increase in the longevity of skin cells, skin has a more youthful and radiant appearance.
With this ingredient, the Amask Gold Stem Cells Facial Mask provides an innovative topical formulation that protects and preserves the youthful look and vitality of our skin in ways never before possible. So using this product regularly can help revitalize the tone, texture, and appearance of aging skin.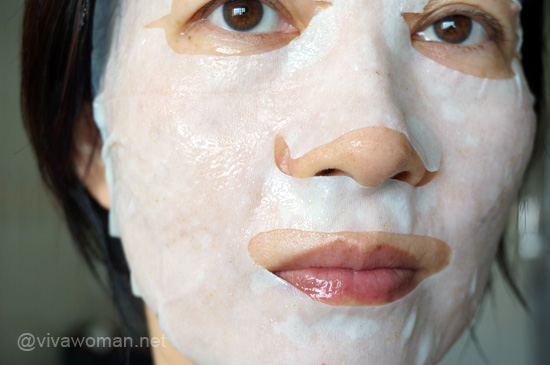 Thicker texture with generous amount of serum
Upon opening, I found the Amask Gold Stem Cells Facial Mask to be drenched with serum and spotted with gold flakes. I was pleased that the sheet mask is not too large and adheres well to my face contour. The mask texture is quite thick and the good thing is, the serum doesn't drip. This works well for me because I could apply the mask for a good 20 minutes and still go about my normal chores. The mask comes with a light scent and even though the serum is generously thick, it did not make my skin feel sticky.
Provides superb hydration and leaves skin glowing
So how did it do for my skin? I'm not too sure about the whitening effects after using the masks just thrice but I know this has provided my skin a great hydration boost. It's great to be used just before bedtime and I'll wake up with skin that is more radiant and luminous. Although I see quite a bit of gold flakes on the sheet mask, I only saw some bits left on my skin. And with a bit of rubbing, the flakes dissolved without a trace.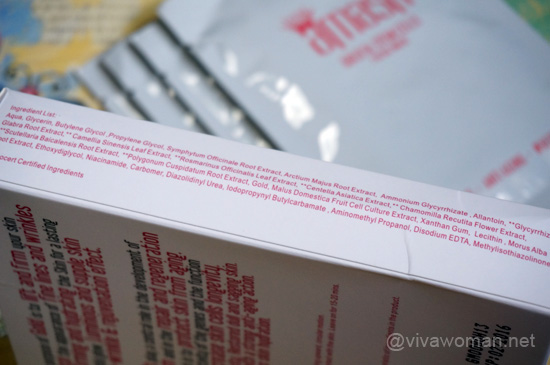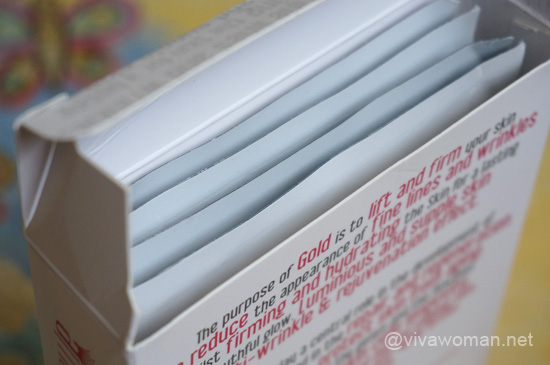 Price and availability
If you're fond of using facial sheet masks, you're probably going to like the Amask Gold & Stem Cells Facial Mask due to the good performance. You can get the 2 pc sample pack at S$19.99 each, or 4 pcs per box at S$37.00 on Amask Singapore's online store. The store ships to Singapore, Malaysia and other international destinations. Just fill in your country upon check out and the appropriate shipping rate will apply. While it's not the cheapest of sheet masks but given the ingredients and the quality of the product, I'll say the Amask Gold & Stem Cells Facial Mask is reasonably priced and worth a try. For more customer reviews on the mask, check out their Facebook page.

Comments