Pocket-It Bag Organizer: keep my tote bag neat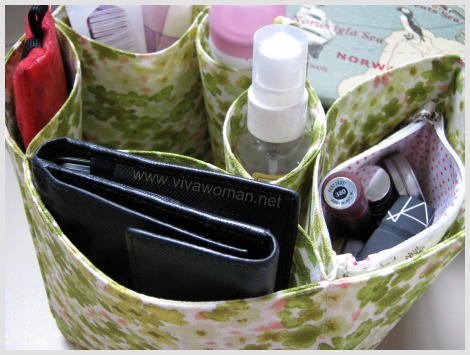 Finally, I was able to get my hands on a bag organizer after months of waiting out. Somehow, I never chanced upon one – either the price was not right or the design was not ideal. So I was of course very happy to find this Pocket-It Organizer at YoursLovingly for S$12.50.
This Pocket-It Organizer isn't very big. It measures 68cm x 13cm and comes with 6 pockets; it can't contain everything in my tote bag but is enough for my wallet, lippies, sanitizer, facial spritz, comb, hand cream, tissue pack and batteries.
I'm not complaining about the size as this bag organizer while small, is very sturdy and isn't at all floppy. Although my Roototes had some side pockets, they were obviously insufficient so this Pocket-It Organizer is really handy for keeping items in my tote bag neat and easily accessible. In the past, I sometimes have to take awhile to find the items I want and it was particularly inconvenient when I was in a hurry.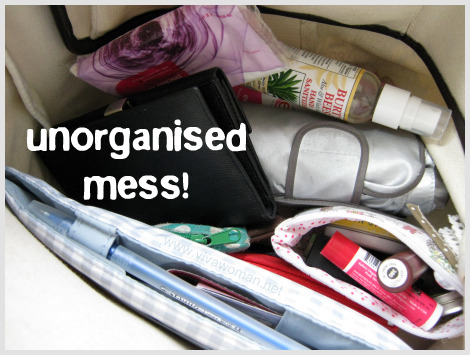 So now, instead of digging up everything just to find my comb, I can now easily locate it without frustration. In addition, I found that it was so easily to change bags as I only need to move the entire bag organizer around.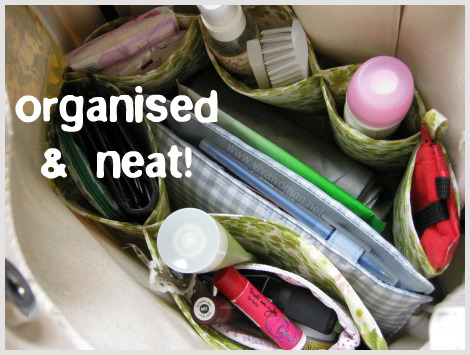 Lookie! My bag is now so neat! The sight of this makes me really pleased! Not only is my bag neater, it now has more space for other clutter stuff. Totally loving this!
Btw, have you been shopping online? It's Black Friday sales in States and lots of online stores are offering specials till Nov 30. I don't know about you but I'm going to go crazy shopping at Etsy soon with all the discounts and free shipping.
Comments